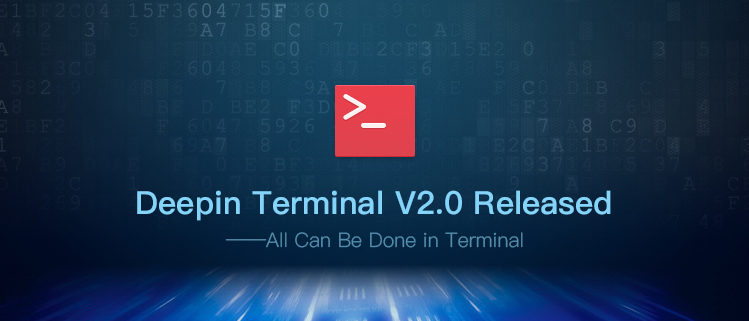 As the main wheel builder in Linux industry, Deepin Technology Team has been thinking, what do terminal users need the most? In conclusion, fast, low occupancy of resources, ultimate terminal experience, and high level of appearance.
After months of collaboration within Deepin Technology Team, Deepin Terminal V2.0 was finally released. Start and close in a second, it is smooth as drifting cloud and flowing water; easy creating of multi-workspace and present to you as tag pages, workspace can be split into several windows, you deserve to have this multi-thread efficient working experience; enhanced remote management support, uploading and downloading will no longer be problems; in addition, there are many themes available, the terminal could also be nice-looking.
More Powerful Feature Waiting for You!
Millisecond-level Start, Feel the Speed
Time for response in within 200 milliseconds, which is truly millisecond-level start, meanwhile, occupancy of memory is optimized for lower system resource consumption.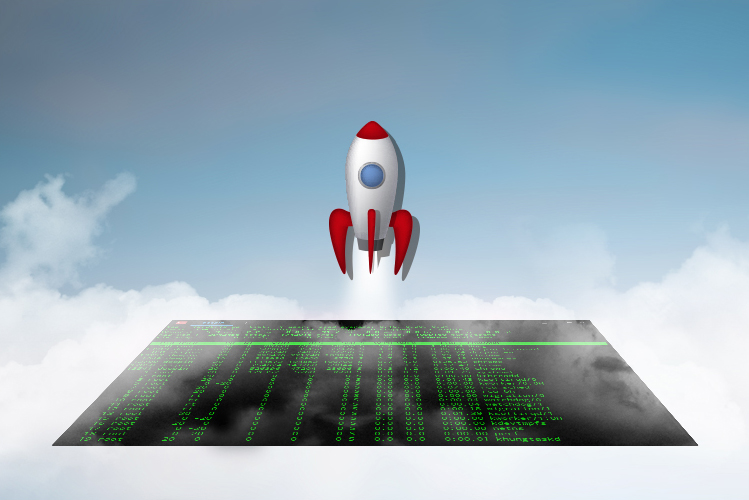 Tag Design, Immersion Experience
The tag design at the top of Deepin Terminal is similar to Chrome, with overall ultra-narrow frame display, all for your immersion terminal experience.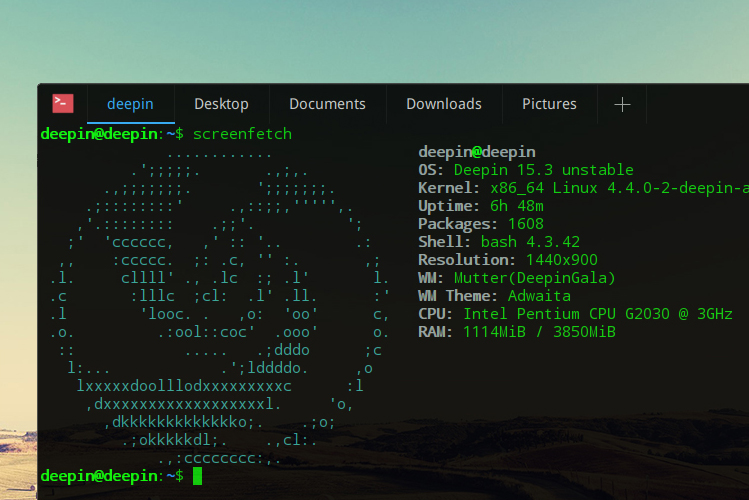 Multiple Themes, Any Changes
More than 40 themes built in by default, one of them will suit you, one-second theme switch is realized for changeable you.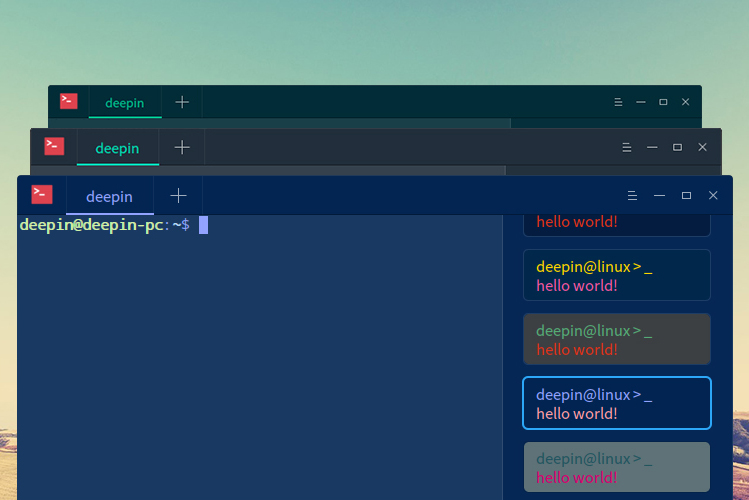 Remote Management, Say Bye to Command Line
Fast remote connection access, makes grouping and command auto-execution more visual. Uploading and downloading are easy, get rid of command line, even thousands of servers can be managed fast.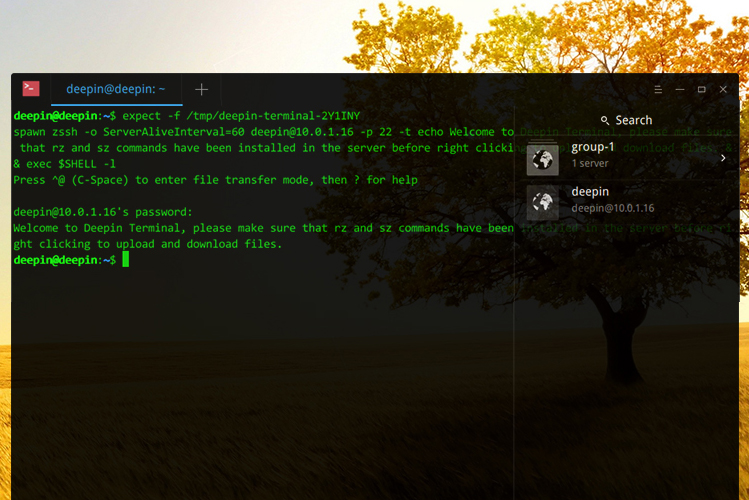 Inspired by Quake, Vintage Font
The Quake Terminal is inspired by the command line window of the famous 3D game Quake. The terminal window pops fast from the top, saving space and does not cover other contents, and as long as bitmap font is installed in the system, user can experience vintage terminal information display.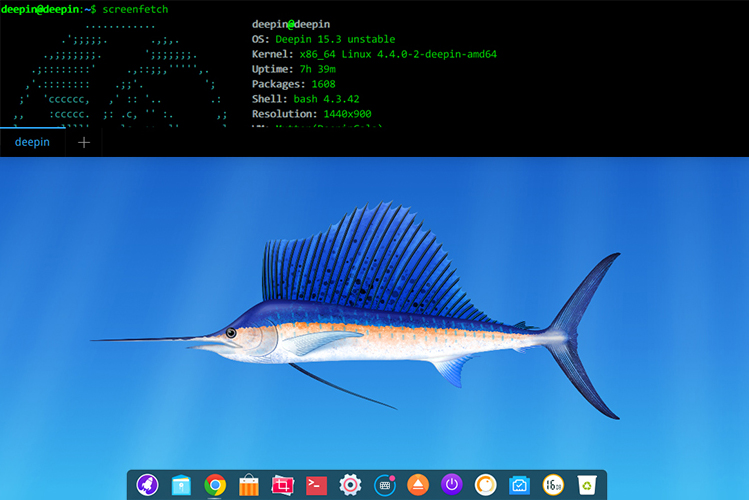 Smart Sense, Creative Notification
We always hover around several machines and commands, when the task of background workspace is finished, it will notify you by changing the color of the tag.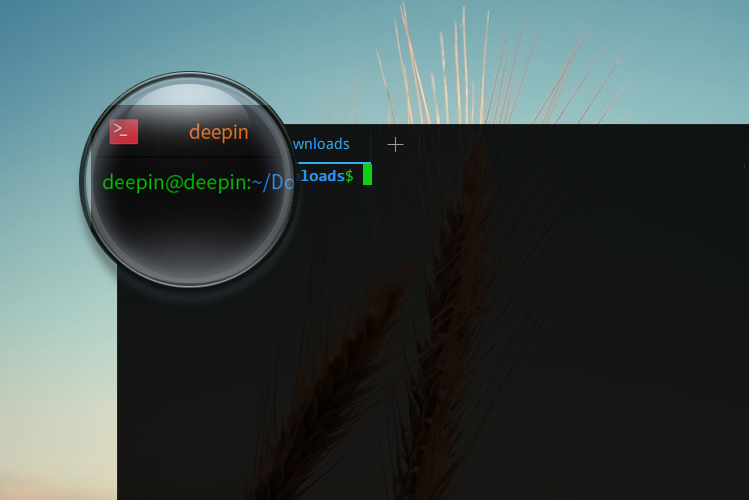 Responsive Design, Thoughtful Trigger
The right-side panel use responsive design to activate and hide, click on the option it appears, on blank it disappears. It automatically recognize links and can open associated file/folders.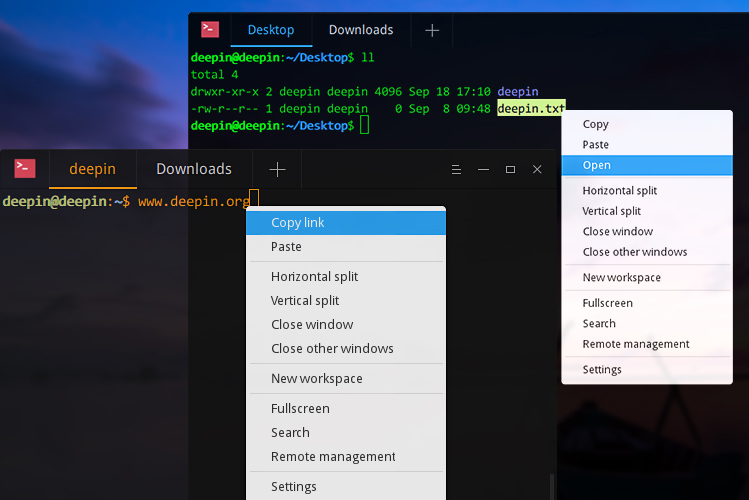 Easy to Get, Simple to Install
For users who newly installed deepin 15.3, Deepin Terminal V2.0 will be pre-installed by default.
Users can also upgrade the system in Control Center ----> System Information----> Update.
Advocate Open Source, Share Happiness
Deepin has been adhere to the principle of "from open source, to open source", we always advocate the ideology of open source and push the ecology construction of Linux community . The spirit of sharing never changed in us, we hereon call for developers from other communities to experience it and participate in packaging, so it could be better distributed.
Deepin Terminal V2.0 in Github: https://github.com/manateelazycat/deepin-terminal