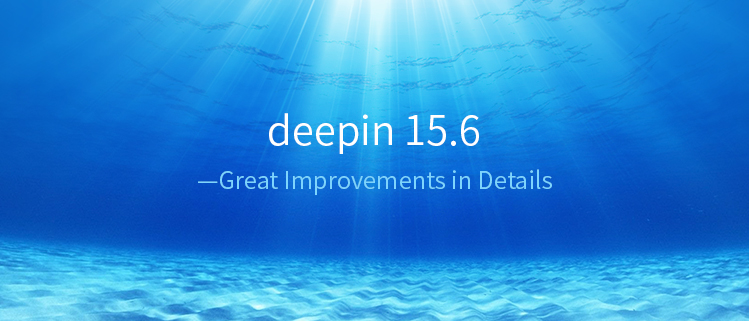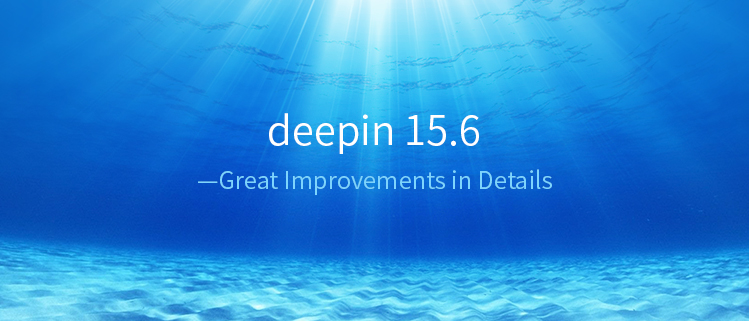 deepin desktop edition works on notebooks and desktops, and aims at providing a stable, efficient and easy-to-use user experience. Its clean user interfaces and the convenient interactions reduces the browsing and searching time, allowing users to have more time to work and study. The new release - deepin 15.6, offers the delicated interfaces and easy-to-understand logics to help users start quickly. No matter which operating system was used before, you can get started easily.
Compared with last edition deepin 15.5, deepin 15.6 mainly added disable display scaling function for HiDPI screens, left navigation bar and music cover plugin in Control Center; developed the welcome program and new Deepin Manual for easier use. Besides the further optimization of deepin desktop environment, a newlook Launcher was designed, Dock, Control Center and the relevant desktop components were optimized partly as well.
New functions
deepin welcome program, get new features quickly
The newly added welcome program demonstrates and guides deepin personalization. When boot after deepin installation, the welcome program will be automatically shown, playing video introduction and guiding you to set desktop mode and icon theme, which can be opened later by clicking "dde-introduction" icon in Launcher.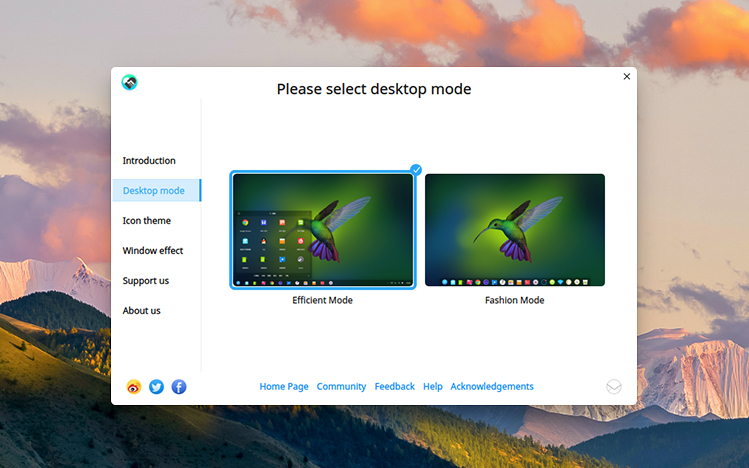 Left navigation bar, change settings with one click
The navigation bar sticks on the left of Control Center. Click the module icon on the left to quickly skip to the settings you want, no need to scroll up and down any more. Moreover, display scaling function is integrated in Control Center for HiDPI screens.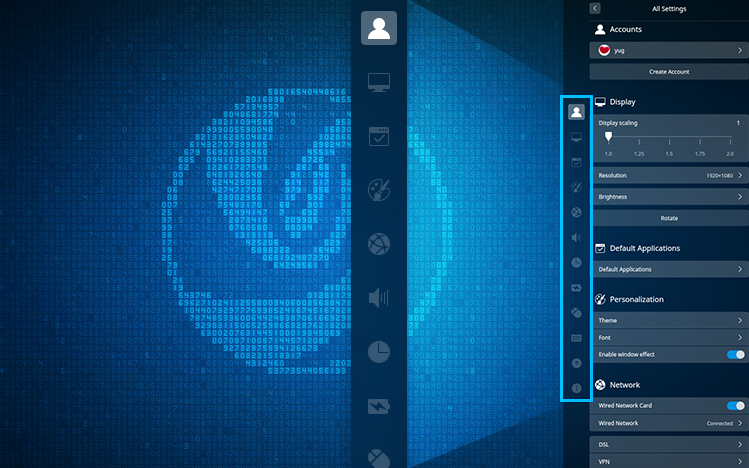 New small window Launcher, customize your unique menu
Launcher in small window mode better fits the habits of dual systems users and new users, making the transition easier. The sequence of applications in "All Programs" list is the same as that of fullscreen mode, with the newly installed apps listed at the bottom, supporting dragging to reorder the list.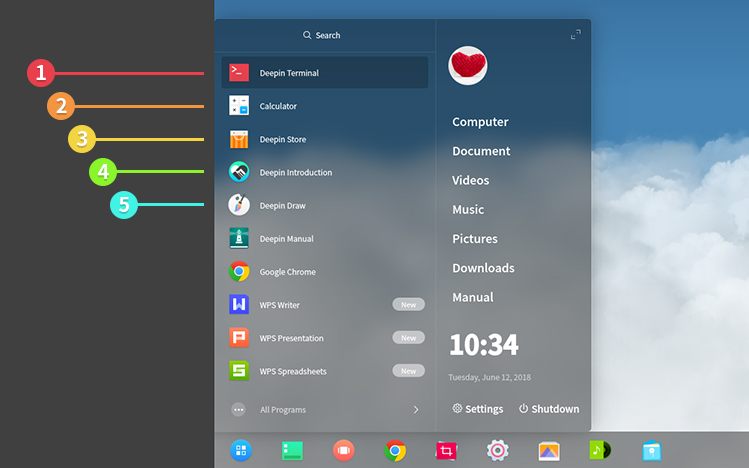 What is more, the applications can be listed based on use frequency, with the most frequently used application at the top; in this list, the use frequency is based on permanent time. Moreover, the applications can be uninstalled in it as in fullscreen mode.
Comprehensive Deepin Manual, easy to find out the answers
The new Deepin Manual integrates the manuals of desktop environment and all deepin applications as an overall introduction; click its icon in Launcher to find manuals quickly and easily.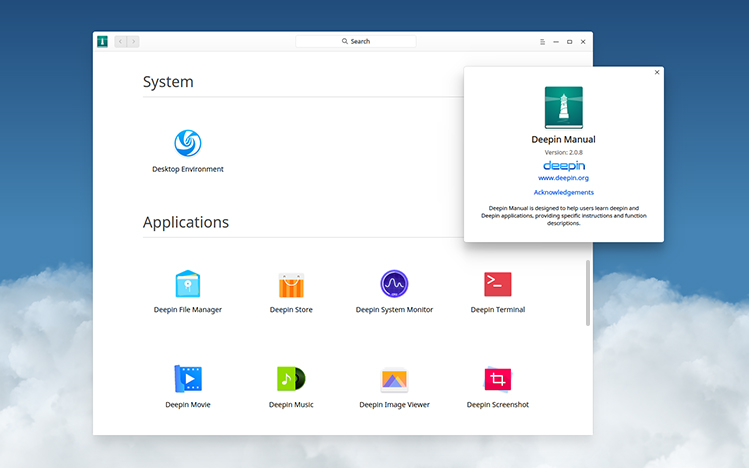 Light or dark theme, switch as you wish
The interfaces of deepin applications are more consistent, providing both light and dark theme to meet your style requirements.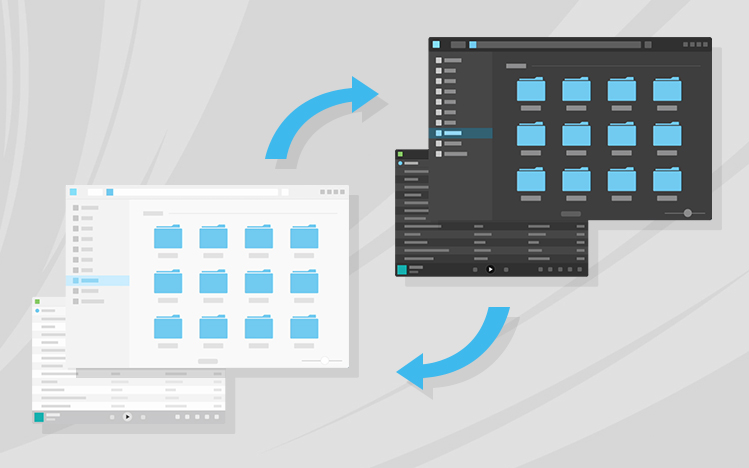 Improved desktop components, more thoughtful functions
Some of the new features are easy to get, while some are not and may be ignored. Even so, the detail fixing has never been stopped.
Dock
Added support for open mounting disk on dock;
Control Center
Added left navigation bar;
Added music cover plugin;
Added the prompt when set auto login and login without password;
Added palm detect settings for touchpad;
Added scroll speed setting for mouse wheel;
Added progress bar display when checking for updates;
Added the prompt when there was not enough disk space for upgrading system;
Added system source detection;
Added support for configuring the wired network before plugging in the network cable;
Added two setting items when enable IPsec in L2TP by creating VPN;
Launcher
Added "Disable display scaling" in context menu;
Added Deepin Manual entry;
Desktop
Added the scrolling display effect when there were many users in the login interface;
Improvements
deepin 15.6 not only included new features, but also fixed the bugs and optimized some functions based on the feedbacks from community users.
Dock
Optimized the icon order on dock;
Optimized the app name displaying on the tray;
Optimized the display logic in multi-screen condition (dock is not in the middle of both screens any longer);
Optimized the plugins on dock;
Optimized the program logic for wallpaper storage and selection.
Control Center
Optimized account logic and prompts;
Optimized the scroll effect;
Optimized the interaction of notification list;
Optimized the system volume range.
Desktop
Optimized the display effect for workspace switching.
Others
Optimized the logic of login interface;
Optimized the login animation;
Optimized the transmission speed of Deepin File Manager;
Optimized cache display logic for wallpaper settings;
Optimized the action and the animation effects of notification messages;
Optimized the components performance and the resource consumption;
Optimized the overall compatibility for other applications.
Bugs fixed
In the development of deepin 15.6, besides adding new functions and improving the original functions, 217 bugs were fixed, excluding the bugs fixed after internal test. These bugs were fixed for desktop environment, deepin native applications, other applications, kernels, and Deepin File Manager, with 17 fatal bugs, 18 serious bugs, 152 normal bugs, and 30 enhancements.
Known but Unfixed bugs
There are still some problems in deepin. Some issues proposed by community users can not be reproduced once again, while some issues can not be reproduced by us. Although these bugs did not cause major problems, we still hope users know that so they can predict the problems that may occur, Besides that, more community enthusiasts are welcomed to help us improving. These issues include:
Deepin Remote Assistance sometimes did not work;
EFI verification error in the log when loading kernel, but it did not affect normal use;
System crashed sometimes when switching languages;
Page content was not shown in Deepin Store when the network was connected;
Dock may be unresponsive in some situations;
The screenshot file of Deepin Screenshot flatpak version cannot be saved out of user directory;
Deepin Image Viewer had performance problems with a large number of images.
Internal test conclusion
Prior to deepin official release, usually an internal test is implemented by a small number of community users, then we record their feedbacks and fix the bugs. In this release, we would like to thank the internal testing team, who submitted 15 suggestions and 52 bugs, covering Bluetooth, boot, shutdown, and Launcher. Among which, 11 suggestions have been confirmed for later fixing and 52 bugs have been completely fixed.
Thanks again to the members of internal testing team, including (in no particular order):
steelchen、huiyi1314、lxflhy、hlbj105、zss1993、ramboshen、waittingsummer、successfully、iamhyc65、a789、zfdllh、MysteriousMan、103588、aksss、snake、wasd010010、moenical、siyucn、scruom、MMDMM、hlbj105、jdocker、atree、winterbear、wtz、xffxff、yao1110313、caoyuan217、amerysong、rain_wen、deepinuser17、hucj、fang-hao、wdd817、junnick056677、langmannanren、rzhli、i1516、sored520、JackeyLea、wangmj、ahyanglf、kingskill、chenfeiying、xyh920691910、javablogs、stonelau、mobansou、bobo、nero28、zeng-zg、ericma、ifloud、JJRDC、voderlxiao、wl1524520、kevin_xiao、opopnhwth、wanzhende、daloyanf、pan868839、argueuneven、fangling、crazybo、Alejandroc、littlejhonnesme、dance707、pandino1972、89486
Downloads
Official Downloads:
Click Here to Download (MD5) (SHA256)
Other Downloads (Synchronizing):
Baidu Yun, MEGA, Google Drive, Community ISO Repository
Reminder:
deepin 15.4.1 and above versions can be upgraded to the latest edition through "Control Center→Update".
More details for system upgrade are here: (Debug FAQ).
About us
deepin is an open source desktop system developed for common users. You are free to download, distribute, modify and use it.
Detailed address is GitHub: https://github.com/linuxdeepin
Welcome to follow us on Weibo, Twitter and Facebook to acquire the latest update in the first time. You are also welcomed to join our forum to communicate and share your joy with us.
At last, solemnly thank community teams and companies who have provided support on testing, documentation, translation and mirroring. With your selfless contribution, open source world is getting better and better!