deepin operating system is a Linux distribution dedicated to providing beautiful, easy-to-use, and secure services to global users. It has consistently been one of the highest-ranked Linux distributions developed by a team from China. (Learn about Deepin's international ranking.)
The core goal of Deepin 20.9 version is to provide users with a stable system running version. This version does not integrate new system functions, but mainly focuses on fixing and optimizing stability issues present in the 20.8 version, in order to ensure system stability.
Deepin 20.9 has upgraded its Qt version to 5.15.8, and updated applications such as log viewer, photo album, drawing board, and system software package manager. It has fixed many experience-affecting issues, further improving the user experience of the system. Welcome friends to try it out!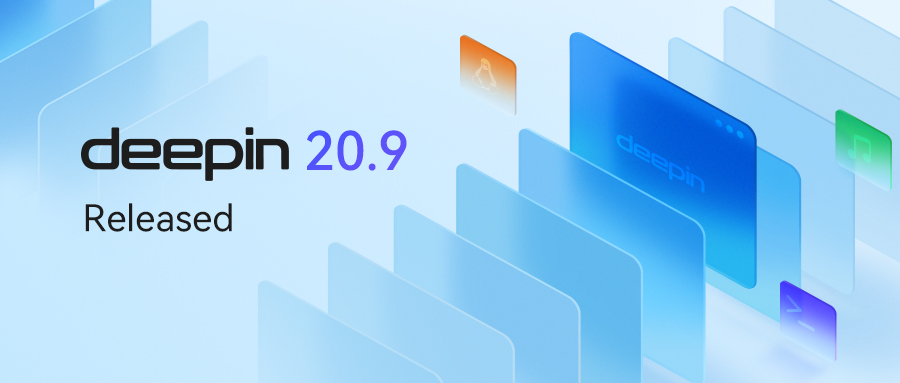 Optimization of the height of the window tube title bar from 40 pixels to 24 pixels;
The following content provides additional information on the key updates of this version (not including new features):
The deepin operating system has upgraded its Qt version to 5.15.8, which will bring better user experience and more features, further enhancing the system's compatibility.

deepin 20.9 has updated the log viewer, which is a very important source of information when you need to troubleshoot errors in the system or applications. The log viewer is a tool provided by the operating system that can help you easily view the log information generated by the system and applications. It can help you track various events, including application errors, system failures, security events, and more.
Using the Deepin log viewer allows you to quickly browse and search logs to find the information you need. You can filter logs based on keywords, dates, times, and other criteria, and sort logs. In addition, the log viewer allows you to export logs for analysis and processing on other systems.
In terms of operating system management, the log viewer is also a very useful tool. Administrators can use it to monitor system logs and check and resolve issues. With the log viewer, administrators can quickly identify errors and faults in the system, enabling faster troubleshooting and repairs.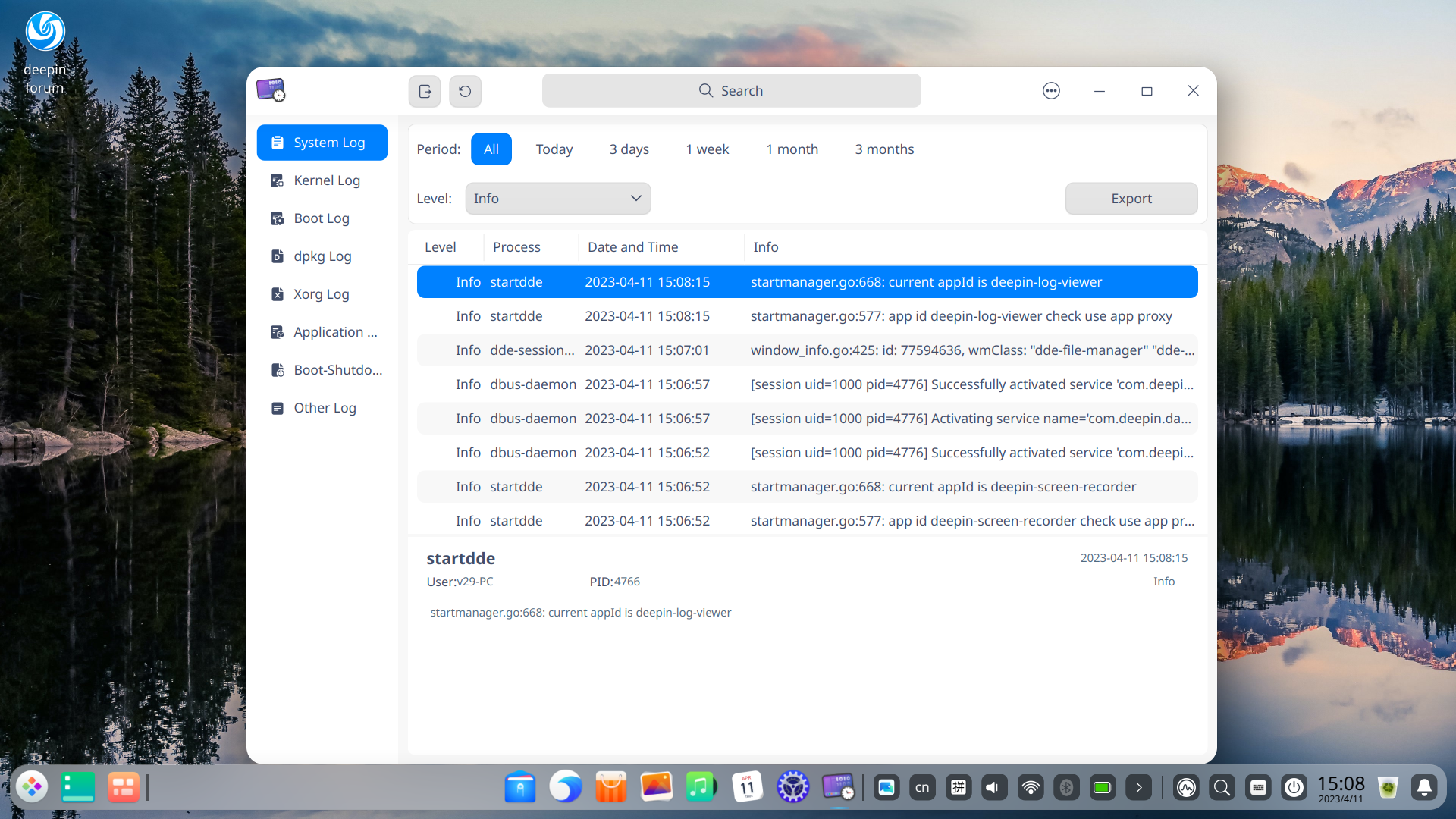 The log viewer is a very useful tool that can help you easily manage and analyze the log information generated by the system and applications. Whether you are a developer, an administrator, or a regular user, you can benefit from the log viewer.
The computer photo album application is a common software used to manage and browse photos on your computer. It is usually provided by the operating system or third-party developers. A computer photo album allows you to easily view, organize, and edit photos, as well as share these files with friends and family.
With the deepin photo album application, you can quickly browse all the photos on your computer. You can organize and manage photos according to different tags and categories, and use the search function to quickly find the files you need. In addition, the computer photo album also allows you to easily edit photos, including rotation, OCR text recognition, adding tags, and other functions, to better manage your files.
Furthermore, the deepin photo album also provides a slideshow feature, allowing you to easily share your photos with friends and family for a great viewing experience. If you want to always see your favorite photos, you can set them as your wallpaper with just one click.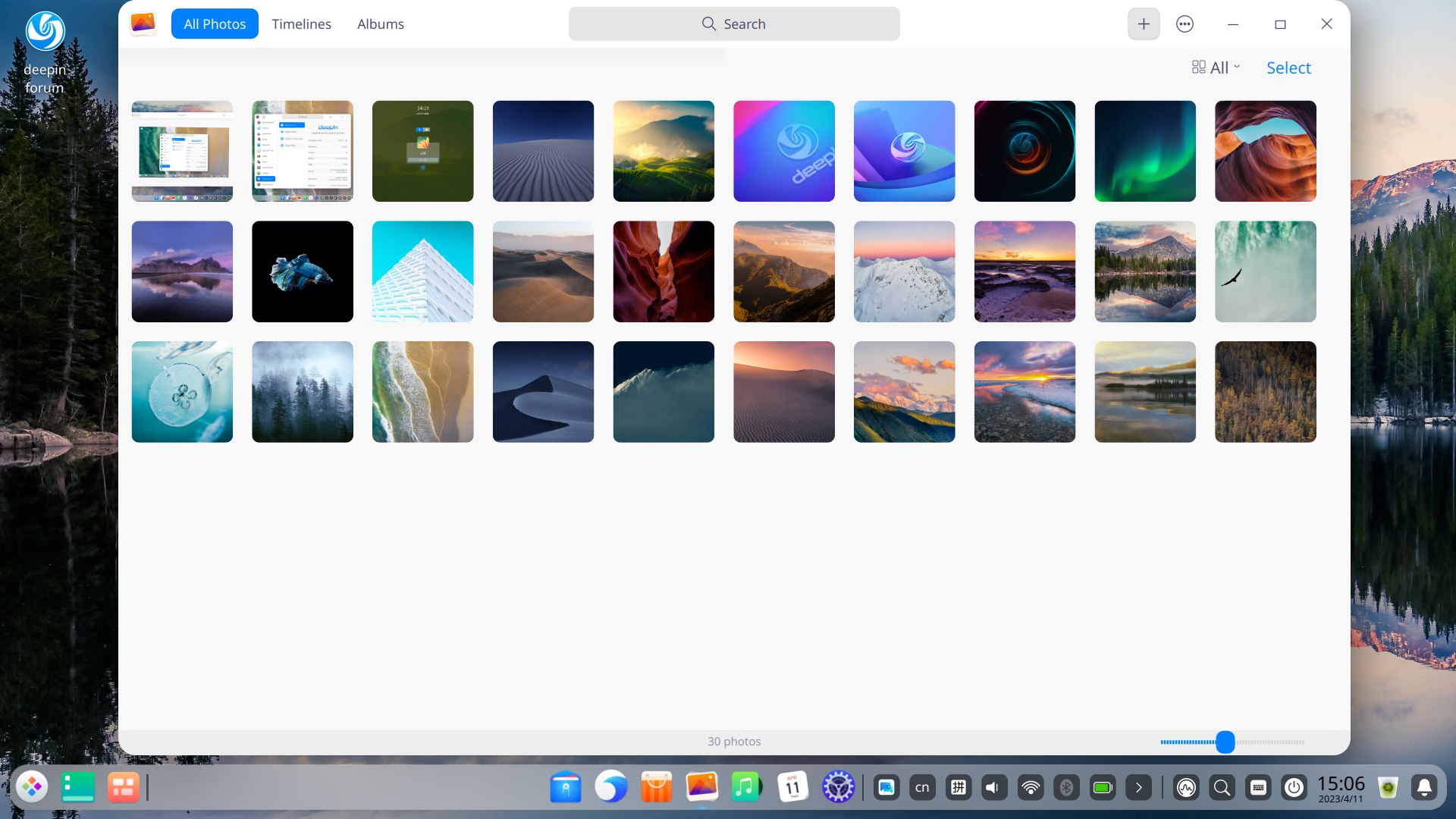 Computer photo album is a very useful tool that helps you manage, browse, and edit your photos and share them with others. If you often deal with a large number of photos or need to share these files with others, deepin photo album will be a very practical tool.
The "Draw" application of the deepin operating system is a digital drawing tool that can be used to create various types of illustrations, comics, oil paintings, sketches, and other works of art. This application provides a rich set of drawing tools and features so that users can freely create. It can be easily accessed and used in the deepin operating system.
The Drawing application includes various drawing tools such as brushes, pens, oil paint brushes, and pencils, as well as various adjustment options such as color, stroke, line thickness, and opacity. In addition, it also supports vector graphics drawing, layer management, erasers, text input, and import and export of various image formats.
The user interface of the Drawing application is very simple and easy to use. Users can use it to create new artwork or open and edit existing image files. In addition, Drawing supports different canvas sizes and ratios to meet different drawing needs.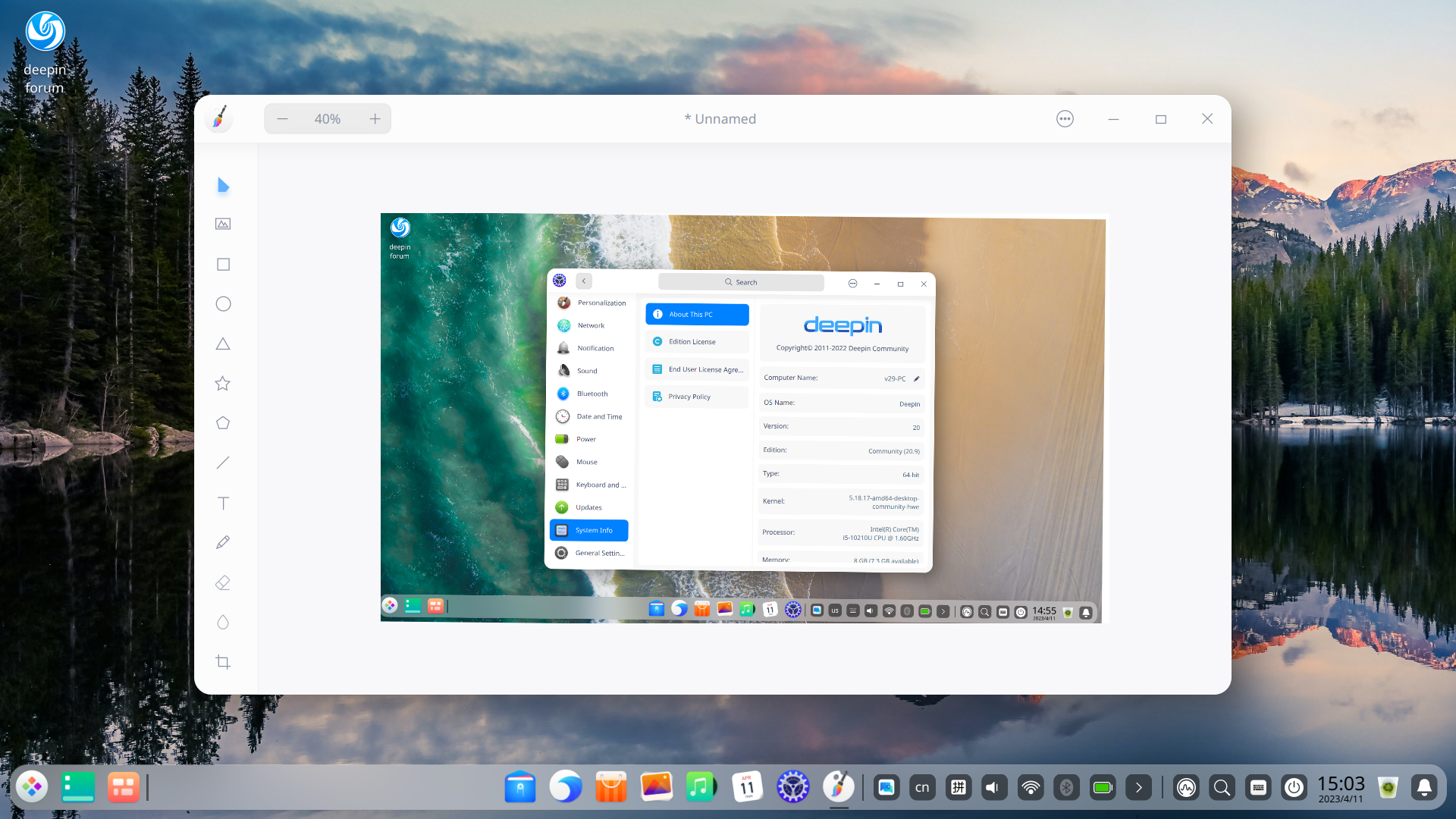 In summary, the "Drawing" application of the Deepin operating system is a very useful digital drawing tool that has a rich set of drawing tools and features, supports different canvas sizes and ratios, and can meet various creative needs. If you are an artist, designer, or enthusiast, the Drawing application is the perfect choice for your digital drawing needs.
Official: https://cdimage.deepin.com/releases/20.9/ 
Baidu Netdisk download link: https://pan.baidu.com/s/1y3iXdjDOLEghgX2S1vl5mQ?pwd=3b2h Extraction code: 3b2h
Torrent download link: https://www.mediafire.com/folder/afasizh5qnvbh/deepin_20.9
Google Drive:https://drive.google.com/drive/folders/1PbHFGHyy052iWX-_vvfRx_j4R-cxev8P
Finally, we would like to express our sincere gratitude to individuals, organizations, and enterprises who have contributed to the testing, documentation, translation, and mirror support of the Deepin operating system! It is through your collaboration that the Deepin operating system continues to improve and become better, thank you!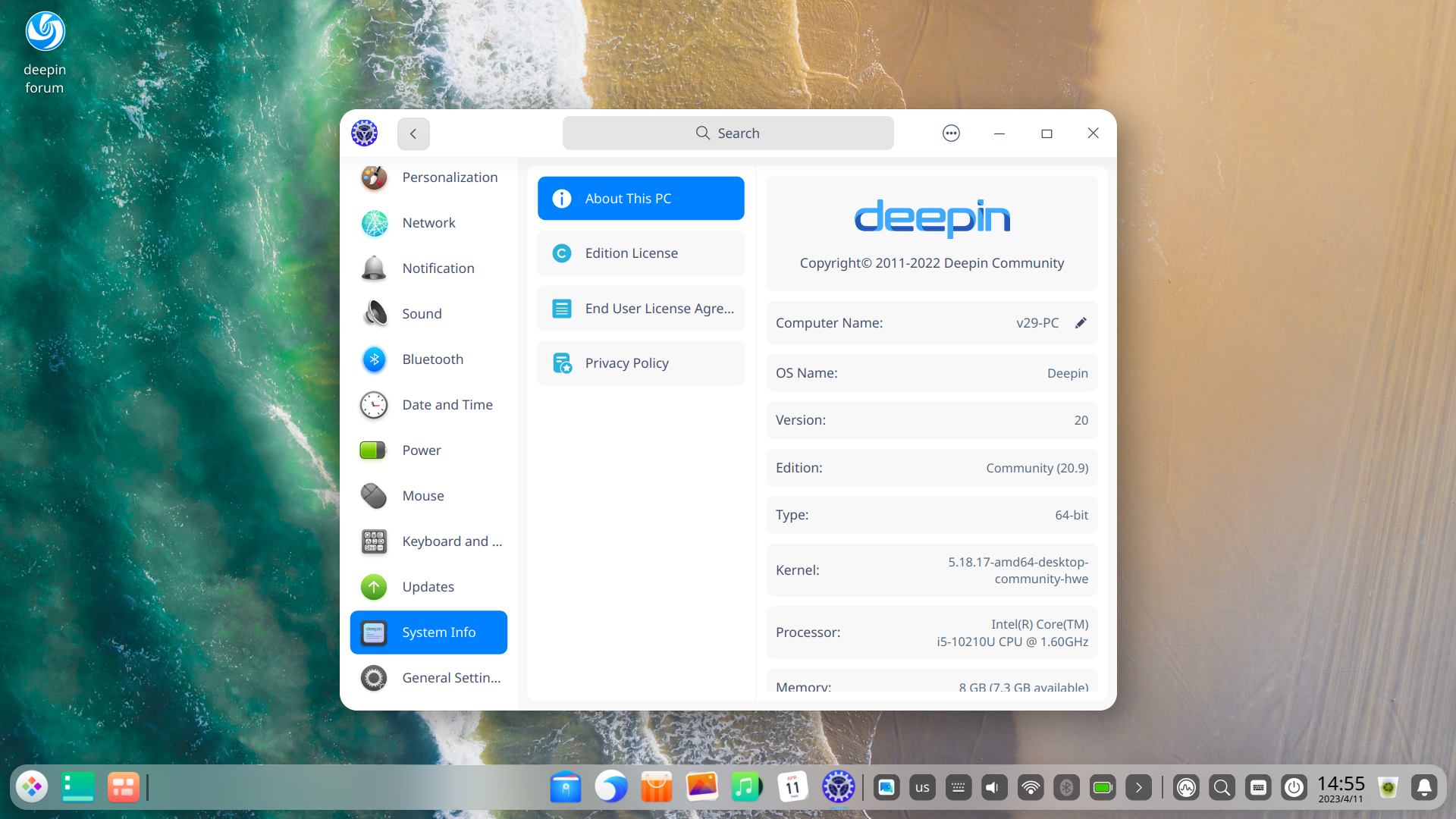 More excitement awaits in deepin 20.9!
If you have any questions or suggestions about the system, please feel free to join the discussion on the Deepin forum: https://bbs.deepin.org. Meanwhile, if you find any bugs while using the system, please don't hesitate to report them to us by opening an issue at https://github.com/linuxdeepin/developer-center/issues. Thank you for your support!