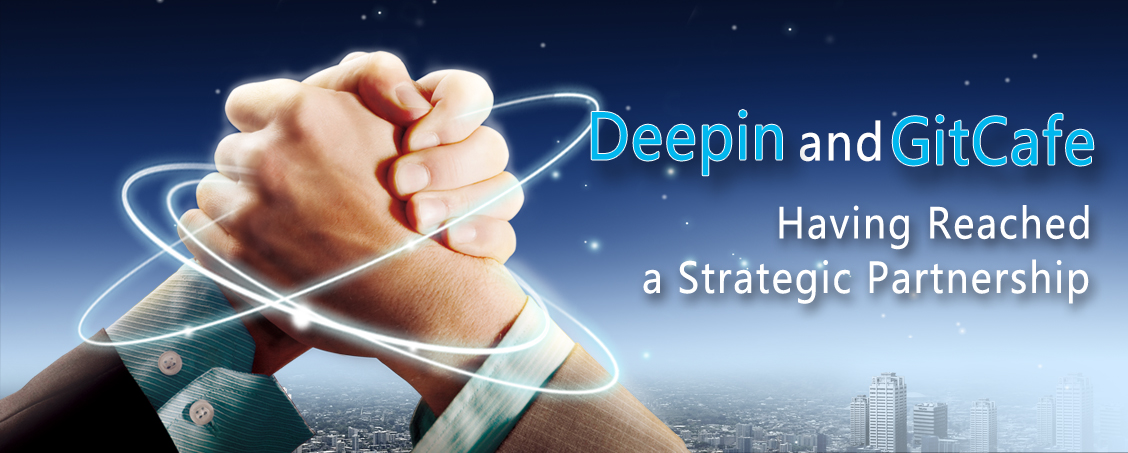 At present, Deepin team and GitCafe team have reached a strategic partnership and they are going to promote the development of Linux at home and abroad together.
An Introduction
Deepin is a Linux distribution that aims to provide an elegant, user-friendly, safe and stable operating system for global users. It not only integrates and configures the best open source products, but also develops a series of applications for daily use based on HTML5 technologies, such as the brand-new Desktop Environment, Deepin System Setting Center, Deepin Music, Deepin Media and Deepin Store. Deepin focuses much of its attention on a friendly experience and a beautiful design. So it is easy to install and use for most users and can be a good Windows alternative for office and entertainment use.
GitCafe is a developer-oriented code hosting platform and it supports the collaboration and development of the open source community projects. Meanwhile, it provides enterprise-level services for business development teams. And thus it makes collaboration and development more convenient and more perfect.
The Two Sides Having Reached Cooperations
Every user and developer: Please note that all the codes of Deepin has been transferred to the library of GitCafe and the former Github library of Deepin has been changed into a mirror library, which will be profitable for Deepin holding online and offline developers activities.
From now on, Deepin team will jointly organize offline activities with GitCafe team, including the forthcoming Deepin 2014 Release Party, Hackers Marathon Offline and Deepin community development activities and other activities. We believe that with the good cooperation of both sides, we can strengthen the spread of the spirit of open source in our country. We also believe that the strategic partnership reached between Deepin and GitCafe can deepen the communication between us and domestic open source and developers communities.
At present, Deepin team has reached cooperation relationships with a series of hardware manufacturers at home and abroad such as 科大讯飞,宁美国度,和信创天,CodeWeavers(CrossOver),深圳中科创新园, 杭州纬聚网络有限公司(又拍云)、北京取道兴业科技有限公司(爱壁纸),金山软件有限公司(WPS Office),网际傲游科技有限公司(傲游浏览器)and HostingXtreme.
We expect that in the near future there are more domestic and foreign manufacturers to join us and cooperate with us. Then we will let the excellent Linux system become the best choice of one's operating systems.
We also hope that there are more excellent projects, like Deepin, to work hard together with GitCafe to create a better future. Thank you all.