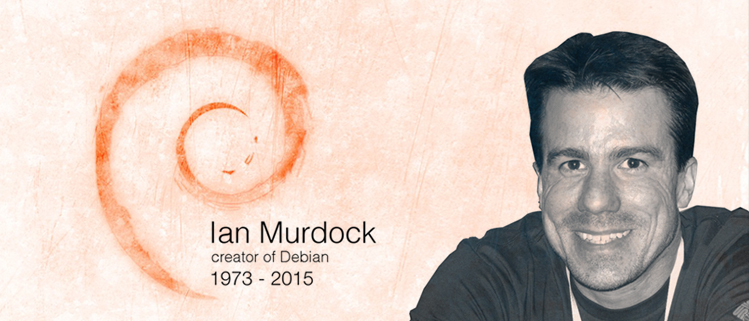 On 31st, Dec, 2015, we were immersed in the joy of releasing deepin 15. But unexpectedly, we learned that Ian Murdock, the founder of Debian Project, deceased before the day, and lots of feelings mixed up in our heart.
deepin 15 is not a simple edition for us, as we have switched the system repository to the greatest Linux distribution in the world——Debian, this not only is an important step we took for our dream, but also our highest respect to open source spirit!
The decease of Ian Murdock, who was the founder and spiritual leader of the project, is no doubt a loss of the open source community!
Here, we have sorted out the biography of Ian Murdock, to commemorate this legend who wrote his romance in Debian and Free Software, to commemorate his short yet legendary life!
Life and career:
28 April 1973, Murdock was born in Konstanz, West Germany
1991--1996, a student at Purdue University, where he earned his bachelor's degree in computer science
1991--1996, wrote the Debian Manifesto,  he named Debian after his then-girlfriend Debra Lynn, and himself (Deb and Ian).
1997--2000, studied at the University of Arizona, where he was a staff programmer and occasional graduate student in the Department of Computer Science.
1999--2005, co-founder of  Progeny Linux System. Chief architect of the company's unique and innovative "customizable Linux" technology that helped organizations build highly
customized, streamlined platforms for Linux-powered products.
2005--2007, was CTO of the Linux Foundation
January 2006, appointed Chief Technology Officer of the Free Standards Group and elected chair of the Linux Standard Base workgroup
2007-- 2010, was Vice President of Emerging Platforms at Sun,until the company merged with Oracle
2011--2015, was Vice President of Platform and Developer Community at Salesforce Marketing Cloud, based in Indianapolis
From November 2015 until his death Murdock was working for Docker, Inc.
The decease of Ian Murdock is a great loss for his family and the wide open source world. People mourn over his decease:
Docker CEO Ben Golub
"It is with great sadness that we inform you that Ian Murdock passed away on Monday night. This is a tragic loss for his family, for the Docker community, and the broader open source world; we all mourn his passing. To Ian's children, family and loved ones, we offer our full support and deepest sympathies.
We consider ourselves lucky to have known Ian and worked with him. He amazed everyone whom he worked with for the depth of his thinking, passion and experience. He was truly brilliant and an inspiration to many of us; his death is a loss to all whom he has known and touched."
Debian Project
"With a heavy heart Debian mourns the passing of Ian Murdock, stalwart proponent of Free Open Source Software, Father, Son, and the 'ian' in Debian.
Ian started the Debian project in August of 1993, releasing the first versions of Debian later that same year. Debian would go on to become the world's Universal Operating System, running on everything from embedded devices to the space station.
Ian's sharp focus was on creating a Distribution and community culture that did the right thing, be it ethically, or technically. Releases went out when they were ready, and the project's staunch stance on Software Freedom are the gold standards in the Free and Open Source world.

Ian's devotion to the right thing guided his work, both in Debian and in the subsequent years, always working towards the best possible future.

Ian's dream lives on: Debian is made up of a strong community that has fostered development, growth, and wonder. It remains incredibly active with thousands of developers working untold hours to bring the world a reliable and secure operating system. Debian has sparked the interest, curiosity, and passion of those who want to make something better. Then, now, and far into the future.

From the bottom of our hearts, we thank you Ian."
Paul Tagliamonte, a Debian developer and member of the Debian FTP Team
"Debian was one of the first operating systems I've ever used, starting with Debian 2.2 ("woody") in middle school. Debian has shaped, in the most literal and direct way, the course of my life. Ian was a figure I looked up to, a central figure in defining the Debian Community, Social Contract, the Debian Free Software Guidelines, and the Open Source Initiative.With his passing, I can only hope he's found peace, reflect on the things he was able to do for the world, and think about the ways in which he's touched my life."
To do the right things is what Ian Murdock always sticks to, both in technique and moral. Each release contains his firm support in Free Software and free spirit.
And we shall carry on and stick to the free software and free spirit of Debian, and steadily move towards the infinite possibilities of tomorrow!
May Ian Murdock rest in peace, the spirit of Free Software lasts forever. Farewell, we shall always remember you!
Biography references:
Eulogy references: