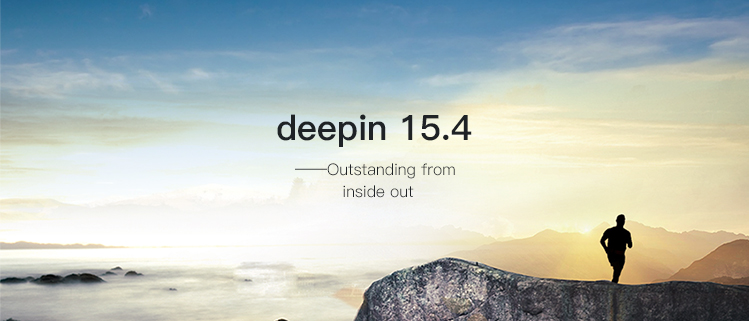 deepin is a Linux distribution devoted to providing beautiful, easy to use, safe and reliable system for global users.
deepin 15.4 has brand new design for Control Center and desktop, it adopted new blur and transparent style, new interactions for hot corner and window manager along with selective wallpapers, fullscreen installation interface, latest stable kernel version and Deepin original applications. It added Traditional Chinese (Hong Kong) and Amharic language support.
Brand New Design and Good-Looking
The Control Center has brand new design and interactions, the homepage shows quick access icons for common settings to make the operation easier and quickly; The weather and notifications will show by plugins, and you can participate more about the customization by the coming soon plugin interfaces.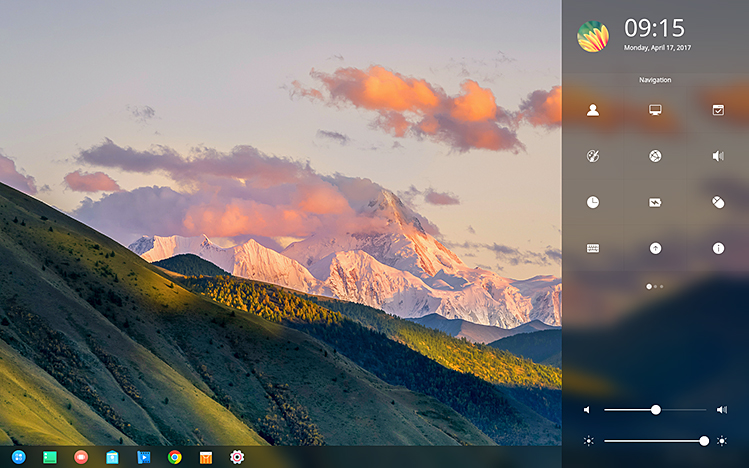 Smart Installer with Smooth Experience
The new design installer has fullscreen interface, fuzzy background, smart detection, friendly reminder and Scan QR code to feedback features to let you enjoy the installation process, you can experience the incredible pleasure of deepin after the time for just a cup of coffee.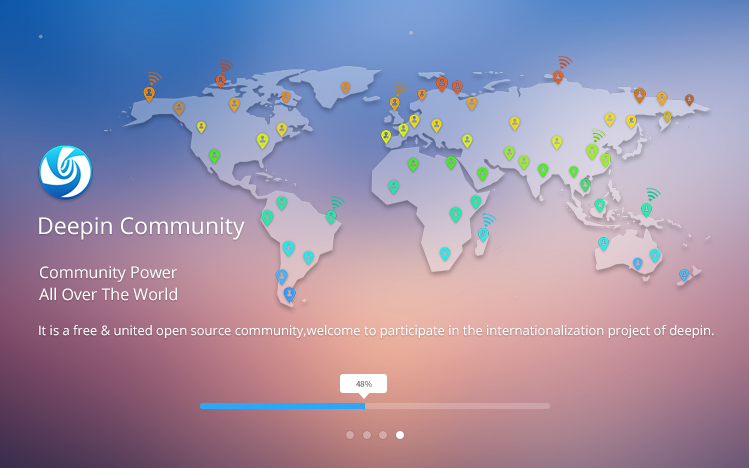 Kernel Update Makes Compatible Better
The new 4.9.8 version of Linux kernel has better drivers for more hardwares, and it can improve the stability and compatibility of the system; And it can support more and more devices;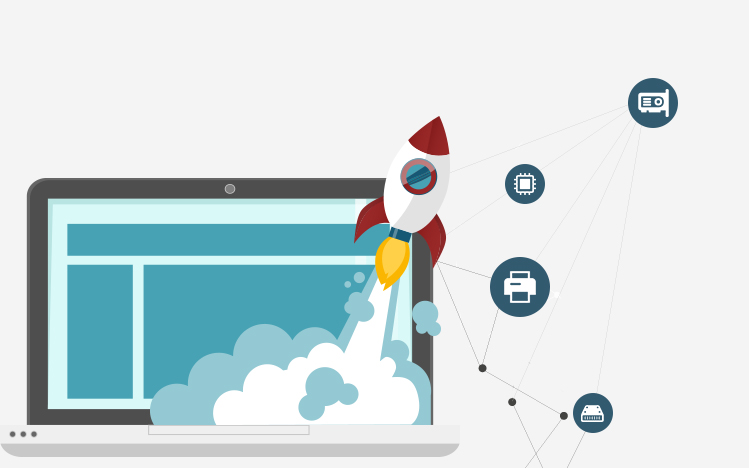 Redraw the Symbol Fonts to Say Goodbye for Popup Hints
We have redrawn and integrated MT Extra and webdings symbol fonts in system, and you won't worrying about the popup hints for fonts in WPS.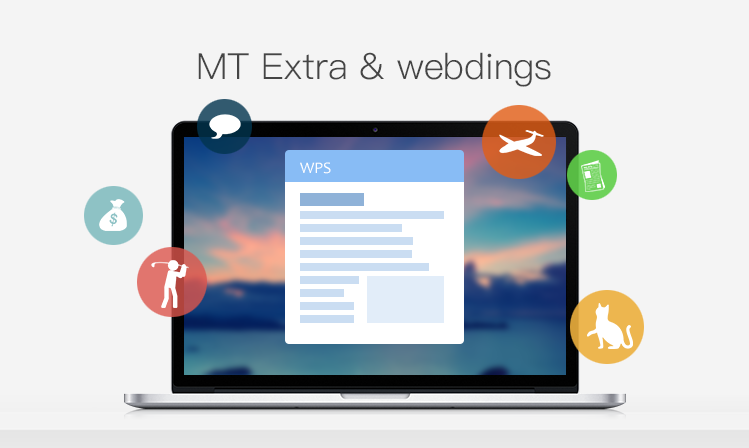 Decorated Window Manager and Gestures for Touchpad
The interaction effects for window manager has been optimized and now you can set different wallpaper for every workspace. And the system has supported multi-touch gestures for touchpad, you can enjoy using the touchpad and forget about your mouse.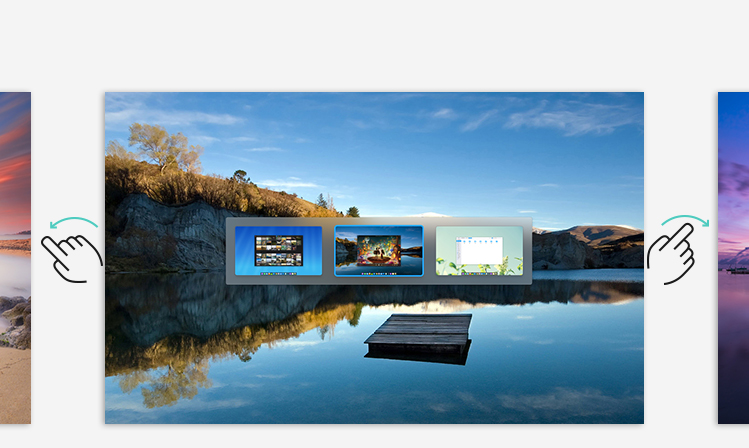 Optimized Hot Corner and Elegant Wallpapers
The desktop hot corners now has brand new interaction experience and added animation guide for demostration to let you avoid the touch by mistake; The new selected wallpapers can let you enjoy the beautiful world around us.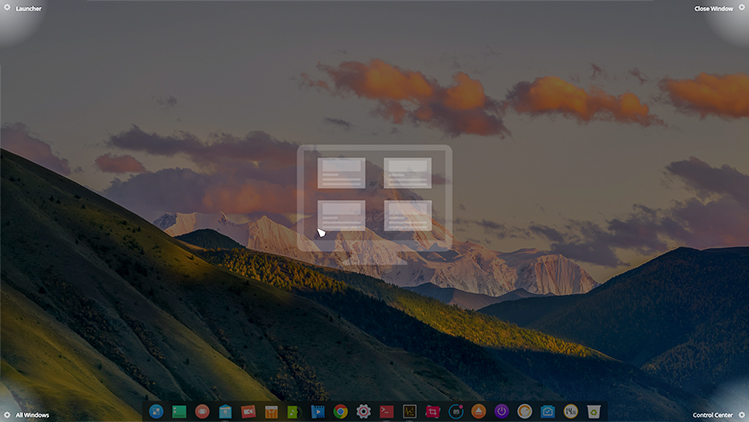 Here are the details of optimization:
Dock
Added function for switching 12hr/24hr time;
Optimized UI details for dock (added blur effects for both menus and tooltips background);
Optimized icon display to solve the blurred icon problem;
Fixed that sometimes icon can be missing;
Fixed that it can be crashed while adjusting the volume;
Control Center
New ground glass and list design;
Added weather forecast and notification center;
Added experimental Remote Screen Projection function;
Added quick access at homepage (sound, brightness, network, Bluetooth and projection, etc.);
Added switch for remembering the status of NumLock;
Added icon and cursor themes;
Fixed the issues that current window will lose focus when pressed CapsLock key;
Optimized that the keyboard layout can be switched by shortcut keys;
Optimized loading speed and memory usage;
Optimized config options for multi-screens to solve the interaction logic for this situation;
Optimized timezone choosing logic to solve DST related problems;
Desktop
Refactor the desktop to solve the logic problem for desktop operations;
Optimized interactions for desktop hot corners;
Fixed issues that the wallpaper thumbnails probably not match the actual set wallpaper;
Fixed that the desktop icons will be covered by dock at switching position in smart hide mode;
Fixed that the desktop folders and apps cannot be open with Enter key;
Launcher
Optimized display effects of icons;
Optimized fonts to adjust automatically by system fonts;
Optimized UI and interaction;
Window Manager
Added showing different wallpapers for default workspaces;
Added guide for switching the workspaces to make it more convenient to switch workspace;
Added ground glass effect support for window background;
Optimized UI details and make interactions smoothly;
Fixed bugs on switching workspaces;
Other
Preinstalled Deepin Screen Recorder;
Preinstalled Deepin Voice Recorder;
Preinstalled Source Han Serif fonts;
Preinstalled Foxit Reader(for English environment);
Preinstalled new XServer and drivers;
Preinstalled QQ 8.9 on CrossOver 16;
Unified interface style for login screen, lock screen and system;
Fixed the issue that Steam cannot update;
Fixed the issue that netcard like bcm4322 cannot work;
Easy to Get and Install
You can experience the unlimited charming brought by deepin in just a cup of tea time.
Please download ISO image of deepin, view video tutorial and install deepin by Deepin Boot Maker to install it to your computer conveniently.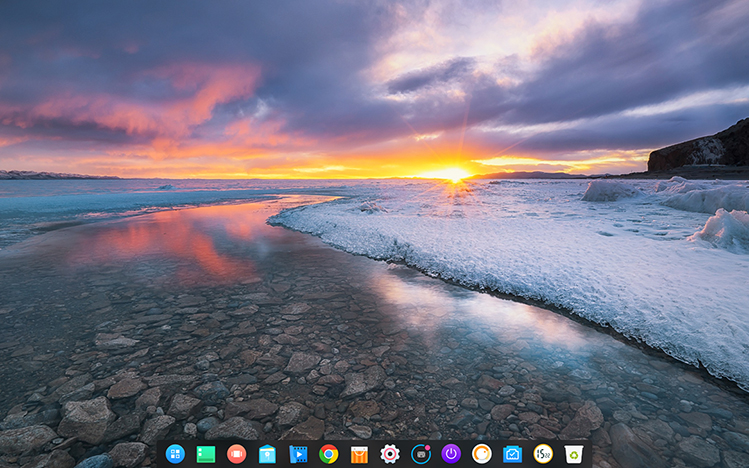 Official Download Point:
64bit: Click Here to Download (MD5 checksum)
Notice: deepin 15.4 will not provide 32-bit non-commercial ISO image download for community. If you need to get commercial support for 32-bit edition, please send email to tech@deepin.com to get paid commercial support.
Other Download Point (Syncing):
Baidu Cloud Disk, Sourceforge, MEGA, Google Drive, Community ISO Repository
Hint: deepin 15.3 users can update to the latest edition through "Control Center > System Information".
Advocate Freedom and Share Happiness
deepin is an open source desktop system developed for common users. You are free to download, distribute, modify and use it.
Detailed address is GitHub: https://github.com/linuxdeepin
Welcome to follow us on Weibo, Twitter and Facebook to acquire latest update in the first time. You are also welcomed to join our forum to communicate and share your joy with us.
At last, we solemnly thank those community teams and companies who have provided testing, documentation, translation and mirroring support. You have made open source better with the selfless contribution!