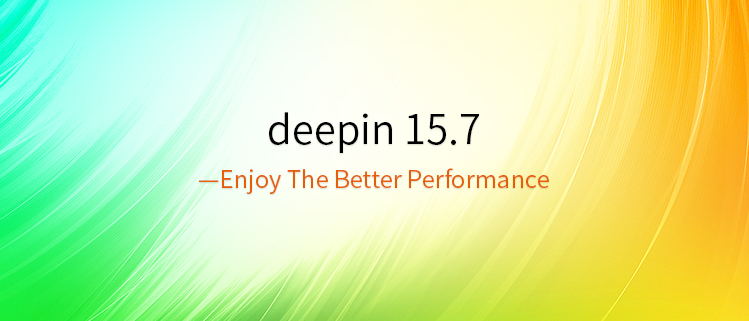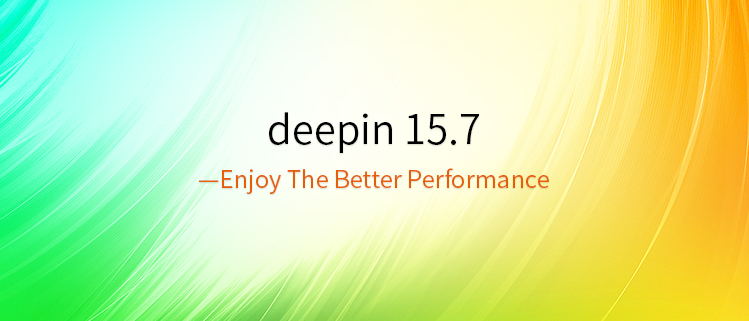 deepin is a Linux distribution devoted to providing beautiful, easy to use, safe and reliable system for global users.
deepin 15.7 mainly optimizes the performance, including ISO size reduction, laptop power optimization and memory optimization. What is more, it fixed many bugs found in deepin 15.6.
Starting with version 15.7, deepin will adopt new version number and new upgrade strategy: the version number format is x.y.z. X is the main version number, and the current main version number is 15, which means this version is developed and maintained from 2015; y is the subversion number, usually updated every three months; z is a minor version number, if there are important system updates between the two x.y versions, 1 or 2 minor versions may be released. The version y with even number will have more feature updates, while the version y with odd number will focus on system optimization and stability enhancement.
Therefore, deepin 15.7 will be the first version to focus on system optimization and stability fixes under this rule. Note: deepin 15.7 fully synchronizes the latest repository components of upstream Debian, so if you upgrade from an earlier version (including 15.6) to 15.7, you will receive more than 1G updates. This process, depending on your Internet bandwidth, may be as short as 10 minutes and as long as hours. Please wait patiently for the full upgrade, do not shut down or unplug the power during the process, otherwise you may not be able to enter the system.
New features
The optimized basic hardware platform is configured as follows:
Minimum configuration:
Processor: Intel Pentium G3250 @ 3.20GHz dual core
Motherboard: Gigabyte H81M-DS2 (Intel Haswell - Lynx Point)
Memory: 2 GB (ADATA DDR3 1333MHz)
Main hard drive: Seagate ST500DM002-1ER14C (500GB / 7200 rpm)
Graphics Card: Intel Haswell Integrated Graphics Controller (112 MB/Gigabyte)
Display: AOC2270 2270W (21.7 inches)
Sound Card: Realtek ALC887 @ Intel Lynx Point High Definition Audio
NIC: Realtek RTL8168/8111/8112 Gigabit Ethernet Controller / Gigabyte
Standard configuration:
Computer model: MSI MS-7817 desktop computer
Processor: Intel 4th Core i5-4460 @ 3.20GHz quad core
Motherboard: MSI B85M-P33 V3 (MS-7817) (Intel Haswell - Lynx Point)
Memory: 8 GB (Kingston DDR3L 1600MHz)
Main hard drive: Seagate ST1000DM003-1ER162 (1 TB / 7200 rpm)
Graphics Card: Intel HD Graphics 4600 (MSI)
Display: Generic Non-PnP Monitor
Sound Card: Realtek ALC887 @ Intel Haswell High Definition Audio
NIC: Realtek RTL8168/8111/8112 Gigabit Ethernet Controller / MSI
ISO size reduction
As deepin family continues to grow with more and more functions, deepin ISO size is constantly increasing. By ensuring the core functions, in deepin 15.7, the pre-installed applications, wallpapers, fonts, videos, etc. have been adjusted to remove unnecessary components and optimize system structure. By this way, deepin 15.7 ISO size is reduced to 2.5G, much less than that of deepin 15.6 with 3.1G.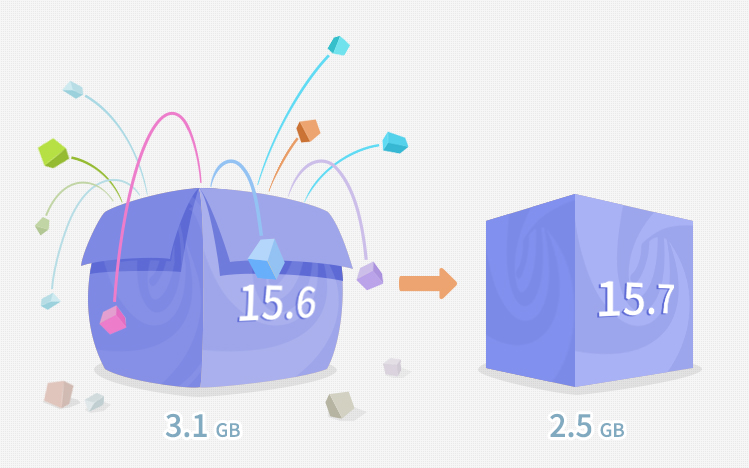 The ISO size comparison of deepin 15.7, deepin 15.6 and other operating systems are as follows: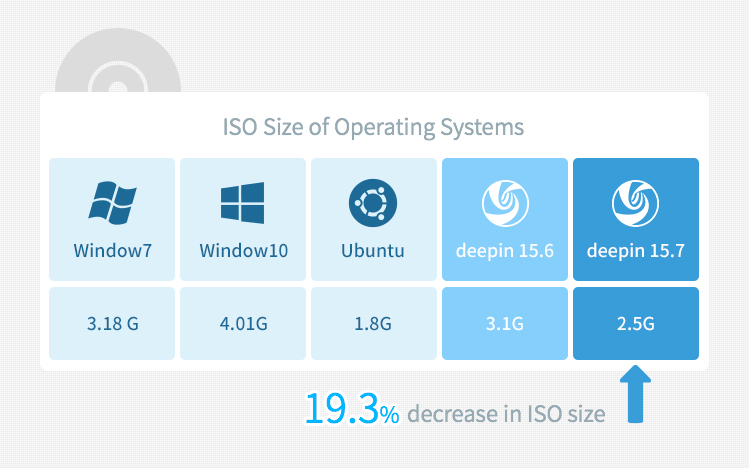 Laptop power optimization
To reduce power consumption of laptop, "power saving mode" is added in deepin 15.7. Your laptop can enter power saving mode automatically when using battery. In this way, laptop standby and working time is increased. Preliminary tests show that in our test environment, standby time is extended 20%.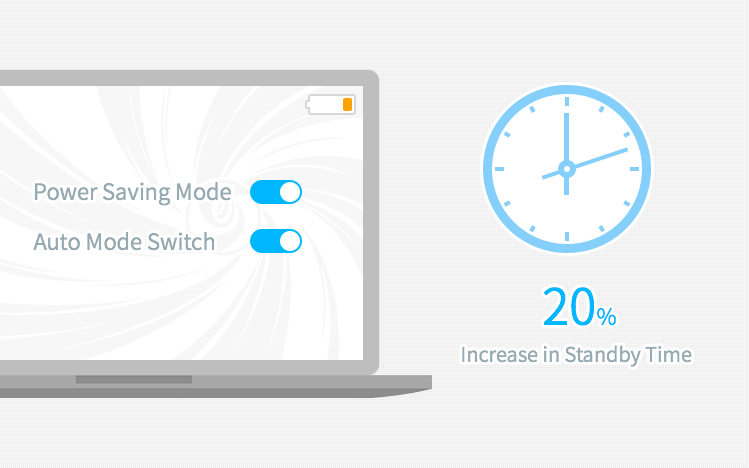 Memory optimization
deepin 15.7 has made a series of adjustments and optimizations in memory usage. In the standard configuration, the boot memory has decreased from 1.1G to 830M, and reduced to less than 800M on a discrete graphics card. The memory occupation comparison of deepin 15.7, deepin 15.6 and other operating systems on the same computer are as follows: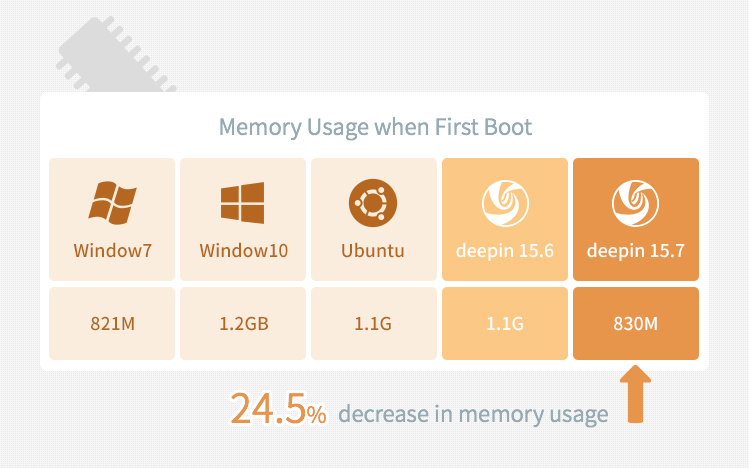 Adjustments and optimizations for other functional modules have been made as well, the new features are as follows:
Dock
Added OSD when turn on/off microphone/WIFI;
Added the animation when drag and drop icon from dock;
Control Center
Added power saving mode and auto mode switching function for laptops;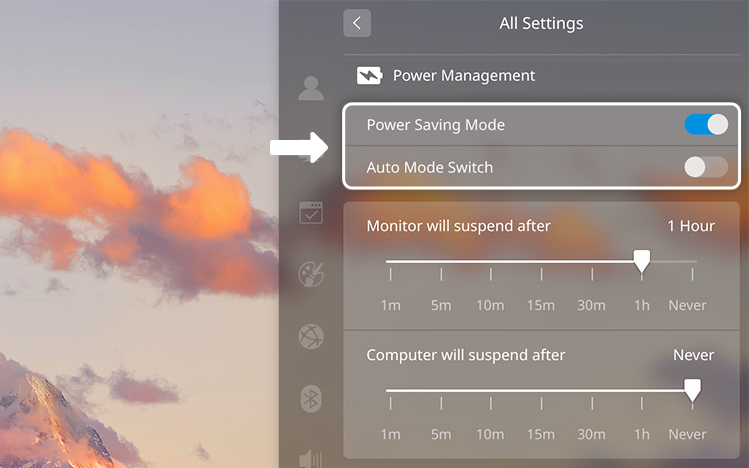 Added the time-costing prompt when there was a big upgrade;
Launcher
Added application categories in mini mode;

Supported using Tab key to jump between different areas;
Others
Added full disk installation; it automatically divides the disk into a reasonable swap partition to support system hibernation, a /home partition and an independent /data partition for users to restore personal data when reinstall;
Added the animation in login and unlock password box;
Added NVIDIA-PRIME solution for laptops with hybrid graphics.

Improvements
Dock
Rebuild network plugin;
Optimized the animation when opening an app on dock;
Optimized preview on dock;
Optimized plugin loading mechanism;
Control Center
Optimized the scrolling effect in Control Center;
Optimized system volume;
Desktop
Optimized the switching effect between workspaces;
Others
Optimized the login animation;
Optimized the display of keyboard layouts;
Google Chrome was updated to the latest 68.0.3440.84-1 version;
Firefox Quantum (ZH) was updated to the latest 61.0.2-1 version.
Bugs fixed
Fixed the memory leakage caused by switching wallpapers;
Fixed the deadlock issue of the property window in File Roller;
Fixed icon loss in Launcher;
Fixed the bug that no keyboard layout was shown on greeter interface;
Fixed the wrong partition number shown in Deepin Installer;
Fixed the bug that notifications were hidden when show desktop;
Fixed the bug that the login password cannot be input after waking the computer;
Fixed the confusion of Intel Compatible Mode and Intel Acceleration Mode in Deepin Graphics Driver Manager;
Fixed the blank OSD when adjusting volume and brightness;
Fixed the wrong notification location (bottom right corner) when recovering from suspend mode;
Fixed the drag and drop issue in Deepin Font Installer;
Fixed the incorrect memory info in Deepin System Monitor.Internal test conclusion
Prior to deepin official release, usually an internal test is implemented among a small number of community users, then we record their feedbacks and fix the bugs. Before deepin 15.7 release, internal upgrade test and public ISO installation test are carried out.
In this release, we would like to thank all the internal testing team and the community users.
Downloads
Click Here to Download (MD5 checksum) (SHA256SUMS)
Other Downloads (Synchronizing):
Baidu Yun, Sourceforge, MEGA, Google Drive, Community ISO Repository
Reminder: deepin 15.4.1 and above versions can be upgraded to the latest edition through "Control Center→ Update".