deepin is devoted to providing users all around the world with an elegant, user-friendly, safe and stable Linux system.
deepin system uses Deepin Desktop Environment developed based on HTML5 technology, with Deepin Music, Deepin Movie, LibreOffice and other software in it. It can meet users' daily needs on entertainment and office.

Thanks to the efforts of community contributors, deepin system has had relatively complete internationalization support. deepin 2014.2 officially supports over 20 languages which are the most popular in the world:
English, Simplified Chinese, Traditional Chinese, French, German, Russian, Spanish, Indonesian, Italian, Turkish, Portuguese (Brazil), Portuguese, Polish, Romanian, Dutch, Hungarian, Czech, Greek, Danish, Slovak
In addition, deepin has relatively complete community documents, nearly 70 mirror sites worldwide, allowing users all around the world to be able to experience the infinite charm of deepin system.
So far, deepin system has been downloaded tens of millions of times cumulatively. Its users are in more than 40 countries and regions around the world. It is ranked the first in Chinese distributions of Linux system on Distrowatch.
System Upgrade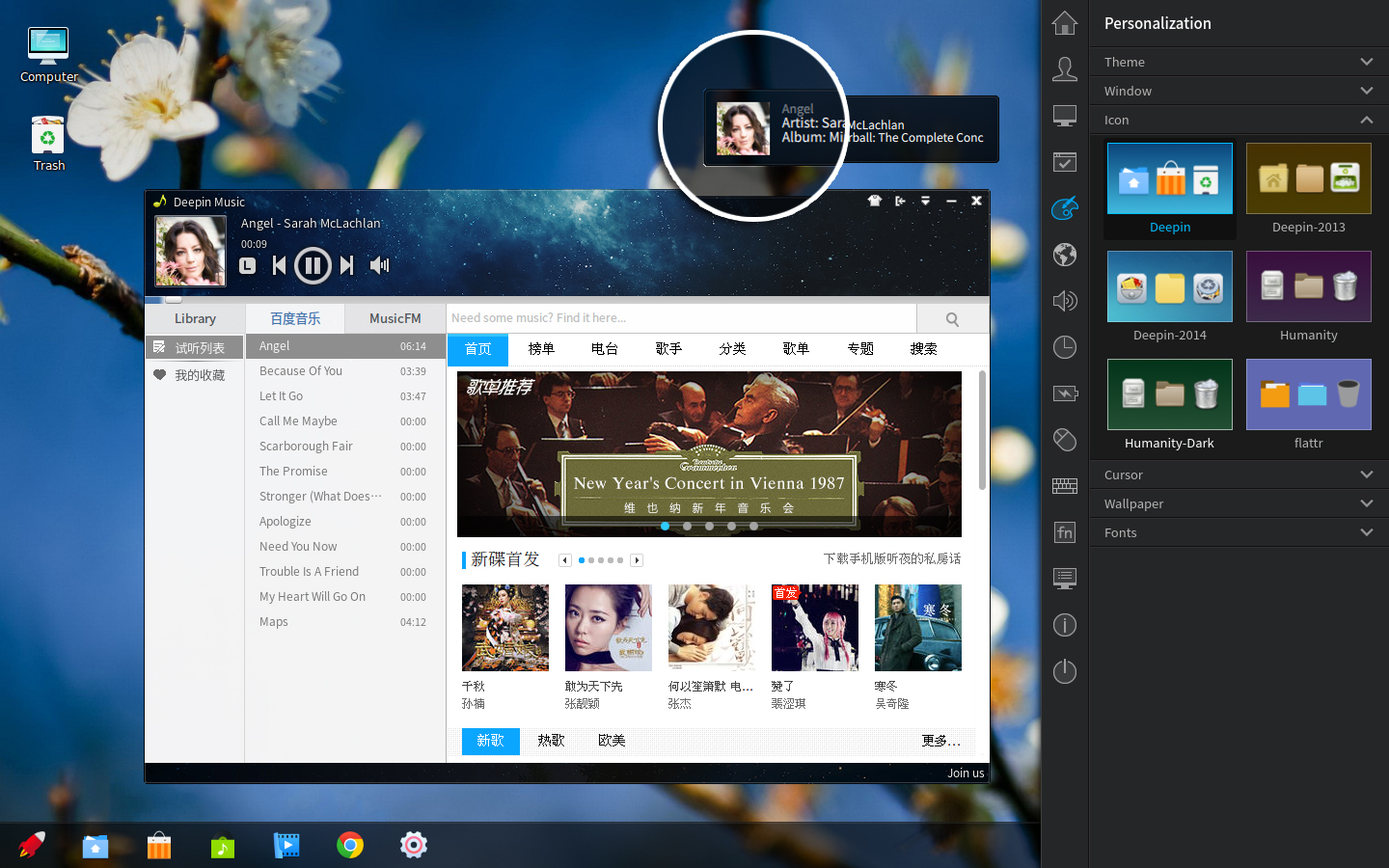 To pursue the ultimate user experience is our philosophy, so we have been polishing our system constantly and bring you the following improvements:
Having enabled the brand-new deepin themes, which makes the system interface more beautiful;
Having newly added the feature of drag and drop reordering to the residing icons in Dock. You can reorder them according to your own preferences. Meanwhile settings of the trays in the notification area have been adjusted, which makes opening and closing trays in the notification area more visualized;
Having newly added four kinds of reordering modes in the Launcher (by name, by category, by installation time and by frequency of use), which facilitates you to manage the system software. Meanwhile the function of the new software being marked is also supported, which helps you find the newly installed software quickly;
Having newly added the functions of "Icon", "Cursor" and "Fonts" setting in the Personalization Setting module, which facilitates you to match the system themes you like;
Having further improved multi-screen display function, which makes it easier for you to set multi-screen display;
Having strengthened the network function and added the function of state memory;
Having simplified the operation of choosing time zone in the Control Center and newly added the function of Daylight Saving Time;
Having simplified the novice user guide to help you quickly master the basic operations of deepin system;
Having newly added dynamic display of system notifications with bubbles, with which you'll no longer miss any message reminder;
Having newly added the function of the system automatically detecting and switching to the best mirror, which ensures you better mirror selection and the faster speed. Software installation and system updates are more efficient;
Having newly added tablet support, which facilitates you to draw pictures by hand on the computer;
Having newly added exfat file system support and enhanced support for windows file system;
Having changed the default shell to Zsh, which facilitates advanced users to manage the system.
System Applications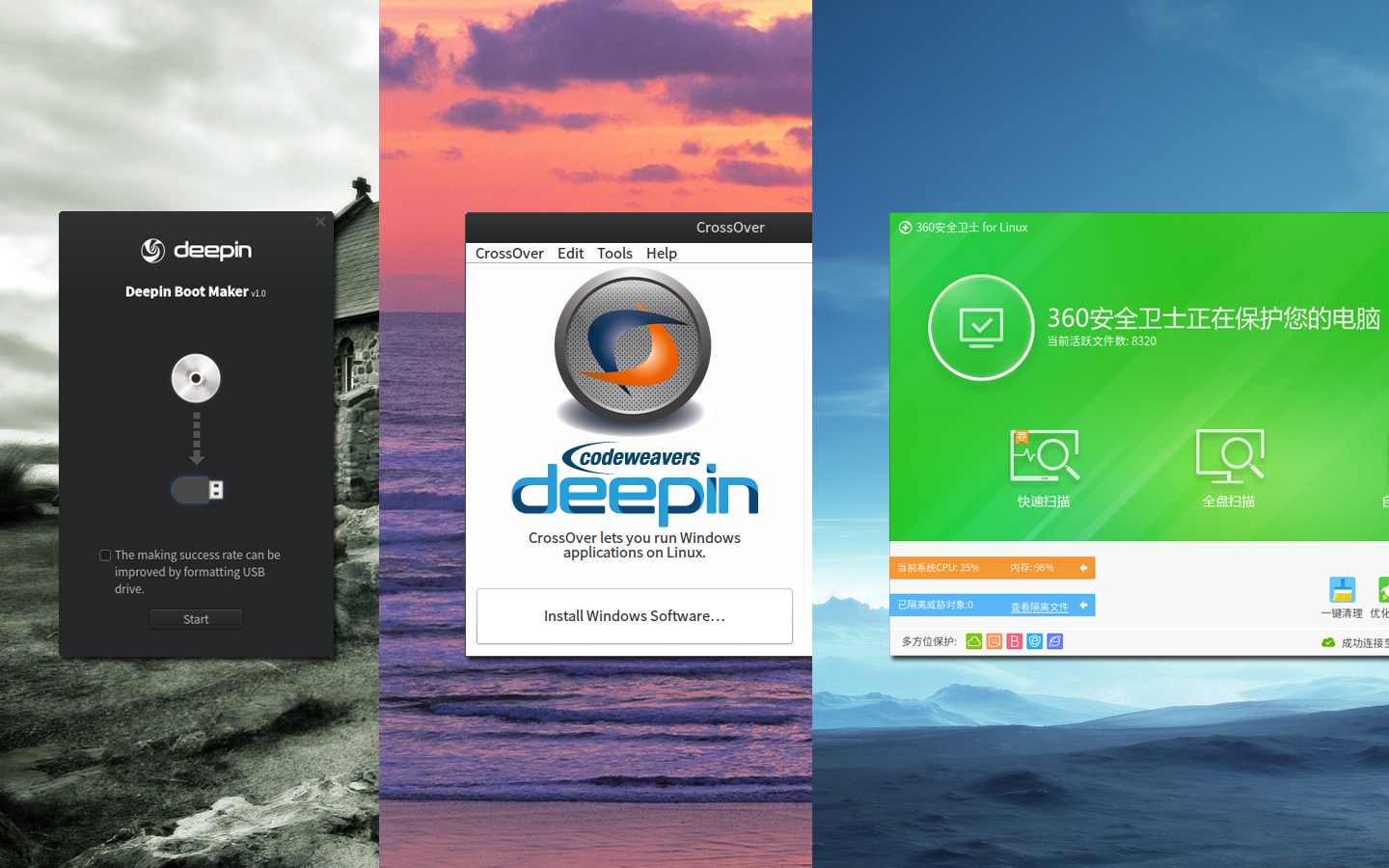 deepin application repository continued to expand with the new application recommendation of Deepin Store, which brings you more high-quality third-party applications.
Deeply cooperated with CodeWeavers Company to preinstall CrossOver deepin special version, and deepin users are free to run Windows applications by CrossOver;
Got the authorization from TIGER Cultural Studio to add the album named [TIGER· FOUR SEASONS] of Hu Yanbin, Guo Yifan, Deng Rubi and Yin Shuyi in Deepin Music by default;
Deeply cooperate with Qihu Company, an international famous security company, you can get 360 security guard for Linux directly in Deepin Store to protect your system security;
LibreOffice and Google browser have been upgraded to the latest version, run faster and are more stable;
Deepin Boot Maker has been upgraded to 1.0, perfectly resolving the boot problems of Bios and UEFI, and improving the successful installation rate of deepin;
Deepin System Installer (Wubi) comes back again, full supporting Win8/XP/Win7 system and facilitating Windows users to experience deepin system;
The development of Deepin Game has been stopped ( won't pre-install by default), large games and online games will be put in Deepin Store in future.
Download and Installation
Download
deepin 2014.2 release provides 32-bit and 64-bit (recommended) download, you can choose to download from any of the following channels:
1. Official Download:
2. Sourceforge: Click Here to Download
3.Friendly Mirror Station: Syncing
4.MEGA:Click Here to Download
5. Baidu Cloud Storage: Syncing 
Installation
The installation of deepin system is quick and easy without cumbersome partition and boot settings. Meanwhile, it improves compatibility for MAC computers and simplifies Live CD mode to make installation be more stable and fast.

We recommend you to install deepin system by Deepin Boot Maker with the most stable and efficient performance.
If you only want to experience deepin system, we recommend you to install by Deepin System Installer. This installation method can directly install deepin system in the partition of Windows system without adjustments of the current hard disk partition,which supports Win8, XP and Win7 system with smoother experience than the virtual machine.
Community Participation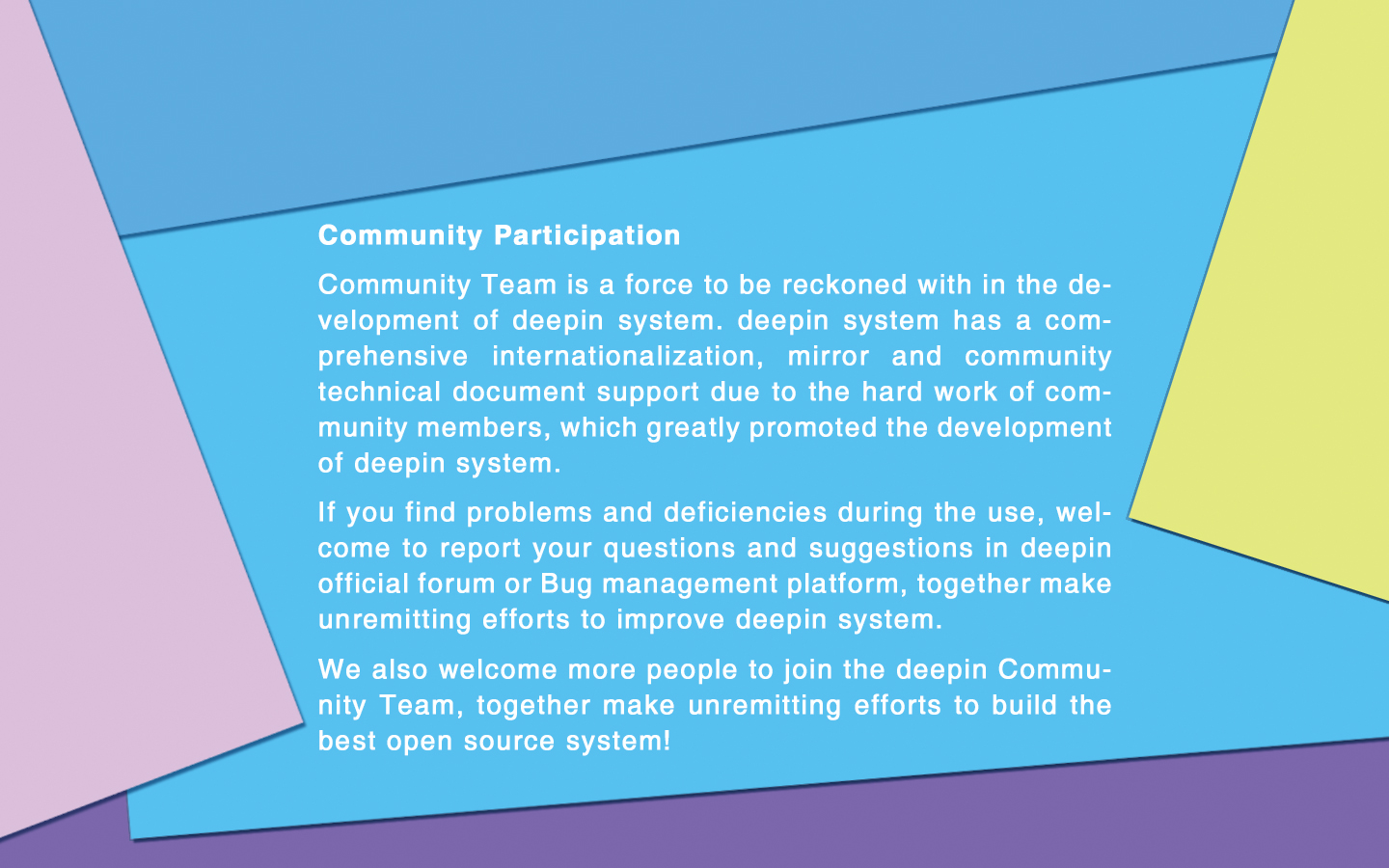 Thank list
Deepin Internationalization Team
0p51k、4goodapp、648trindade、abuyop、ACJ、addegsson、AhmedAyman、alanjhone、Alby407、ambiya、aminul、andrej55、Anduxor、anirban、Antisound、Arreyu、artor、arvernester、ashickur_noor、Atalanttore、awriel、ballmet、Billolo、Black_Scorpion、Brianlee、brunodems、bryan3561、Calinou、cangussu.br、CasperLi_HK、child、christopherccg、closeddoors1559、cod11、coEr、cricri8o、cristianhcd、ddabrahim、devant、dweight、Eaiman、eduardgotwig 、Elrrax、enderleit、etc.session、evilscorpio、facundo981、fasier、federrr、fedesanchez、FFXP、forstjiri、Fox909、fraescaya10、freddy4212、fri、galih、gamjachib、Giannaki、Gnechen、gogo、GoldBlossom、Grandis、grognak、Gryphonheart、hash11、haykojanjado、Herrax、Hoobs、hyuchia、ICesarI、ilox11、inashdeen、iron_man、Israelortiz、jasper580、JeffWagen、Jessewb、JimSp472000、Jodeba、JohnCod3、jonnius、Jop、josedancer、jvjey、kangur、kardnex、karlos2、kayomfreire、kazzike、kdavid97、Kloki、knarfytrebil、kneekoo、kolera、kukharski、laszlo.espadas、Lesmerdino、lexross、ljay79、LoboHoffer、longsurfing、Luozengbin、Malsasa、marlonjke、marvelous.beat、mashudicastol、massimo.carofano、Maxximo88、McArthas、mechulkalan、mefjak、mehdico、mfsco、micpaw85、Microtus、Mmhyamin、Mohd、Neltus、nen3、nero1000000、Nicat97、nrgmaster、nujugi、octolith、op6464、oscarfloresrua、P.ajorlou、pacificator、pawel_z、PeterDaveHello、pguth、pjhalsli、popArch、Pr0TuRk38、qiansen1386、ranmaruhibikiya、ratulcse10、ravindu、rfsilveira、ricardosimoes、richdb、Riksman、rizmut、Rsletta、rusu.dorin.adrian、s8321414、safaariman、samson、Se7enTime、Seba.wetzel、sexol123maleev、Showcheap、shpync、Snubbi、solomonsunder、strebski 、stroud92、Suore、syldra89、talaverameza、tejeskifly、toolband25、Trid、truongap、ud1955、vgevorgyan、victor.guardiola、vicves、viniciusarl、vitorohe、vmarci21、Wamukota、wbear、webcrush、wemomax、xkarlos2Deepin、xzh159357、yakup、yuvi、ZereoX、zeroc00l、Zoom、zubairw、吴善俊
deepin Internal Testing Team, deepin Community Management Team, deepin Document Management Team
94088737、991894172、a285654974、a287740928、a375474942、a398058068、ahyanglf、BingoLove、Bluek404、Cbryy、ColinChen、corEr、diyiliaoya、Dusuanyun、Element、finid、firstar、ForbearChen、foundix、fredy4212 、gotwig、jianning、kangkangkf、lishoujun、Liupuhua、love19841009、lxh112210、lyxlgr、Maggieszd、majun0313、Maxximo88、nancy2014、pdlenovo、PiziTan 、rickyr、Rommel、syqiven、w7236666、xiaoshitou、xiazhishang、yeser、zhlk1001、zywlsh
deepin Mirror Support Team
阿里云、搜狐开源、中国科学技术大学、浙江大学、厦门大学、北京交通大学、北京理工大学、兰州大学、电子科技大学、华中科技大学、中山大学、清华大学、江苏开放大学、华中科技大学联创团队、南京师范大学、山东理工大学、西南大学、天津大学、首都在线科技股份有限公司、开源中国、中国开源软件中心、Linux运维派、凝聚网络安全工作室、上海交通大学、中国地质大学、哈尔滨工业大学镜像站、dotsrc.org、Skarta、Kiev Linux Users Group、Yandex Linux mirror、IPACCT、GloboTech Communications、Telkom SAIX、Web Africa、Datautama Net Id Company、NCHC自由软件实验室、Ubuntu正体中文站、元智大学信息工程学系、南台科技大学、国立暨南国际大学、EDATEL ISP、UPC Telekabel Wien GmbH、Federal University of Parana、University of Sao Paulo、GWDG、Tuxinator、Friedrich-Alexander-Universität Erlangen-Nürnberg、GARR/CILEA、Nexcess、Rainside、KDDI R&D Laboratories Inc.、Belnet、Piotrkosoft.net、Academic Computer Club, Umeå University、Portlane、Georgia Tech. Software Library、Hosting Xtreme、James Madison University、MetroCast Cablevision、Michigan Tech Linux Users' Group、Bytemark Hosting、University of Kent UK Mirror Service、NLUUG、Studenten Net Twente、DOST-ASTI、DGN Technologies Information Publishing Corparation、GloboTech Communications
Note: All are in an random order, and some contributors belong to multiple team members.
Open Source Declaration
deepin system is an open-source system for common users, welcome to download, distribute and use freely.
deepin system conforms to Open Source License, you can freely obtain deepin system source code:
Welcome to follow us on Twitter, Facebook and Google+ to obtain the latest news of deepin immediately. If you need commercial support, please do not hesitate to contact us.
Finally, enjoy!