Friendly Reminder
Do not install, use or evaluate it in a virtual machine
Since Compiz is used as the window manager in Deepin 2014 and its performance is poor in a virtual machine, Deepin 2014 is strongly recommended to be installed directly in the real machine, so that the gorgeous effect of which can be truly experienced.
To completely solve this problem, we have planned to develop a new window manager to replace Compiz in the future releases.
Overview
Linux Deepin Project has been officially renamed as "Deepin Project".
Deepin is a Linux distribution that aims to provide an elegant, user-friendly, safe and stable operating system for global users. Based on HTML5 technologies, Deepin team has developed a series of new special software, such as Deepin Desktop Environment, Deepin Music Player, DPlayer, Deepin Software Center etc.
In recent years, Deepin developed rapidly and has got support of users from more than 40 countries or regions in the world. The operating system has been downloaded tens of millions of times and ranks first on DistroWatch among Chinese Linux operating system distributions.
Compared with Deepin 2013 release, Deepin 2014 release has the following updates and changes:
Multi-language Support
Thanks to efforts of the translators from various countries in Deepin Community, Deepin 2014 officially offers 10 languages. And all the languages are integrated in an ISO mirror to facilitate the users' installation.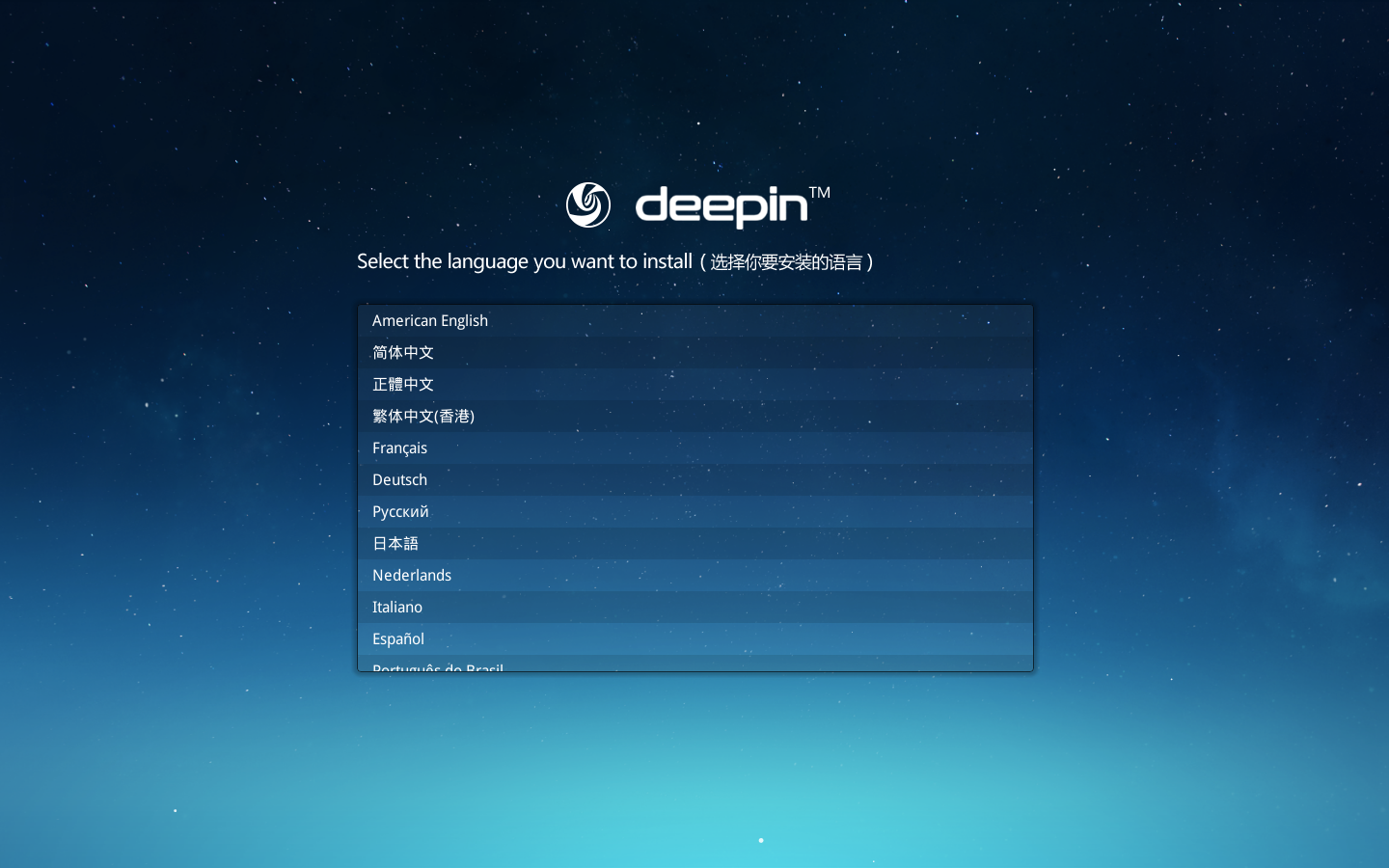 At present Deepin International Project is being translated into 67 languages( including the same languages in different language families). You are welcome to join in this project. Let Deepin System support more languages.
Deepin Desktop Environment 2.0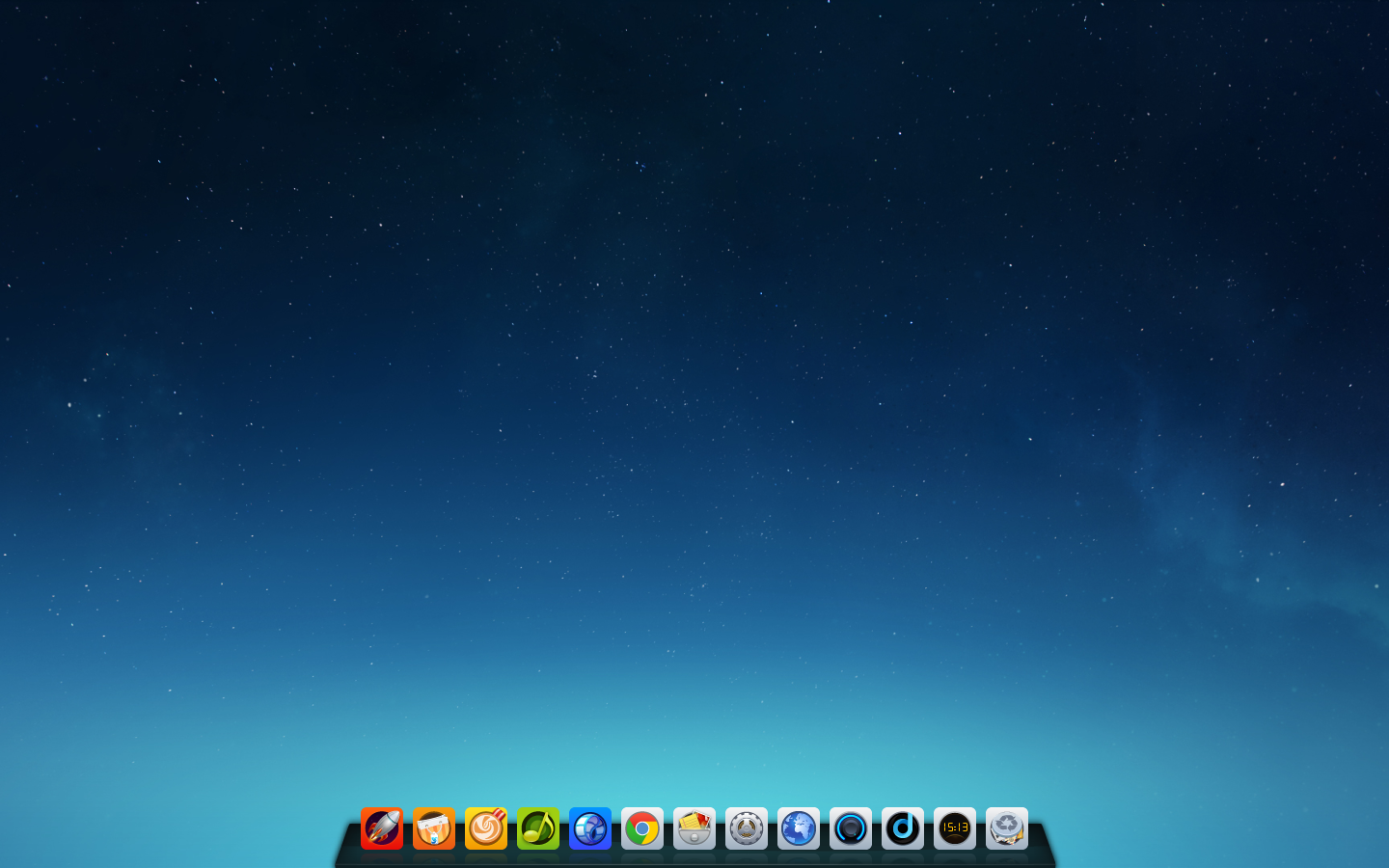 Deepin 2014 brings a brand-new Deepin Desktop Environment 2.0, with a specially designed Deepin theme, which makes the overall style and appearance of Deepin 2014 unified, neat and tidy.
Compared with the previous distribution, Deepin Desktop Environment 2.0 newly adds convenience features, such as user guide, starter Chinese phonetic search, intuitive hot zone settings, which makes users at home when they initially use Deepin system.
Meanwhile, we have made a comprehensive optimization to Deepin Desktop Environment 2.0 and the internal of the system with a boot memory of only 500M, and the internal prompt mechanism has been improved, which makes Deepin 2014 more lightweight and sensitive.
Deepin Control Center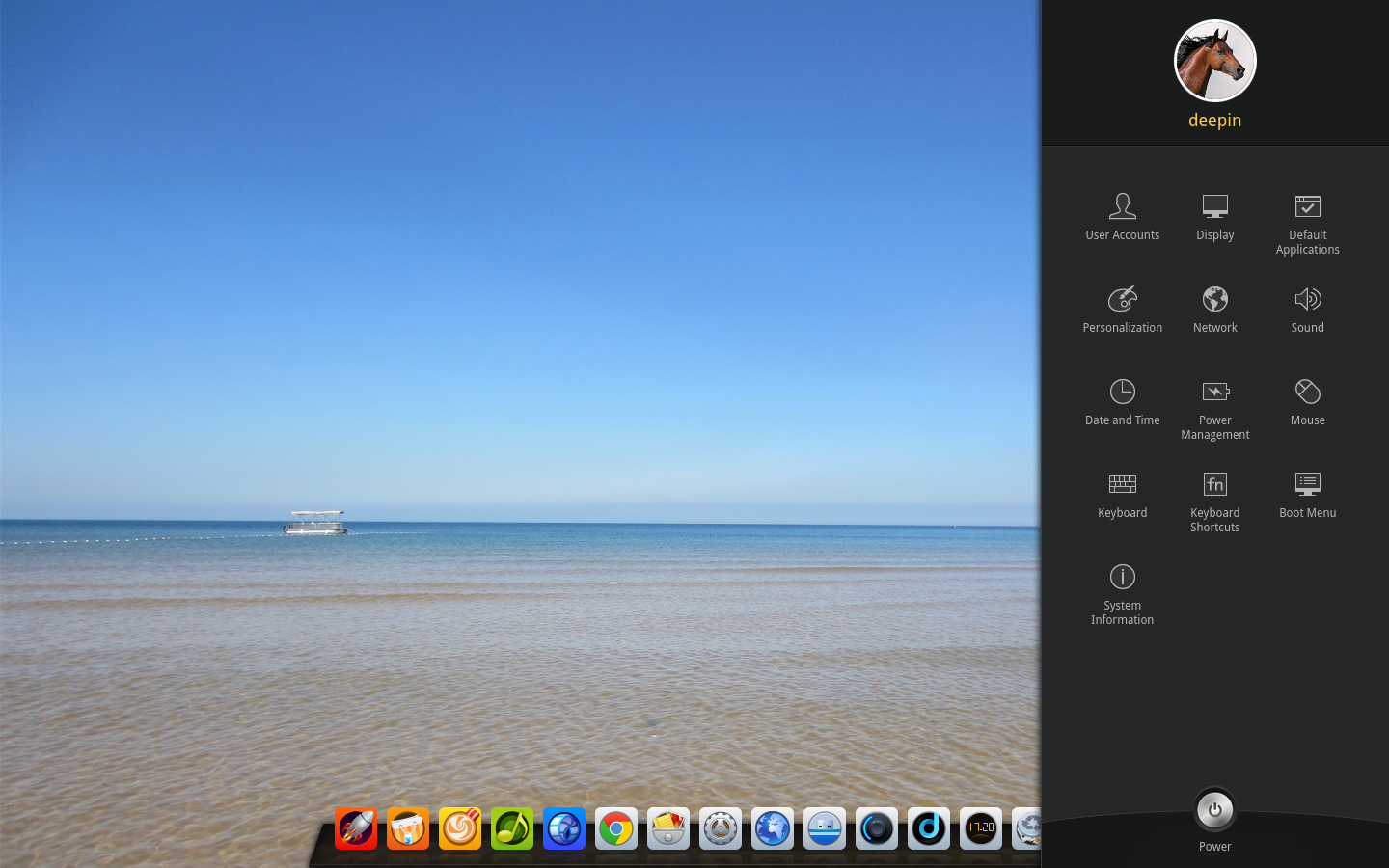 The system settings in Deepin Desktop Environment 2.0 have been comprehensively
upgraded into Deepin Control Center. And in appearance the panel pops up on the right of the screen, which makes the Deepin Control Center more efficiently and beautifully used.
At the same time when some functions of important modules, such as display, network and personalization are comprehensively improved, more functions that can be set are newly added, like system theme management and program start menu management.
Software Management
The brand-new pieces of software such as Deepin Movie, Deepin Translator, Deepin Boot Maker and so on are added in Deepin 2014. And the commonly used pieces of software like Sogou input method and Google browser are updated, to facilitate the use for daily entertainment and work.
Based on Deepin 2013 depot, we added a lot of third-party software, which could be installed directly by opening Deepin Software Center. Meanwhile, the system supports uninstalling programs directly by the right key in the starter. Now, no tedious Root certification is needed whether in installing or uninstalling software under Deepin. And there is strict control in the whole operation, and thus security problems won't happen.
In addition, Deepin Project possesses more than 70 mirror sources in the world. The function of Deepin Software Center detecting the best source has returned. Physical location judgement is added in this function. This function can help you quickly choose the best software source for your quickly updating system and installing software.
Community Involvement
The development of Deepin Project is inseparable from the efforts of Deepin Community members.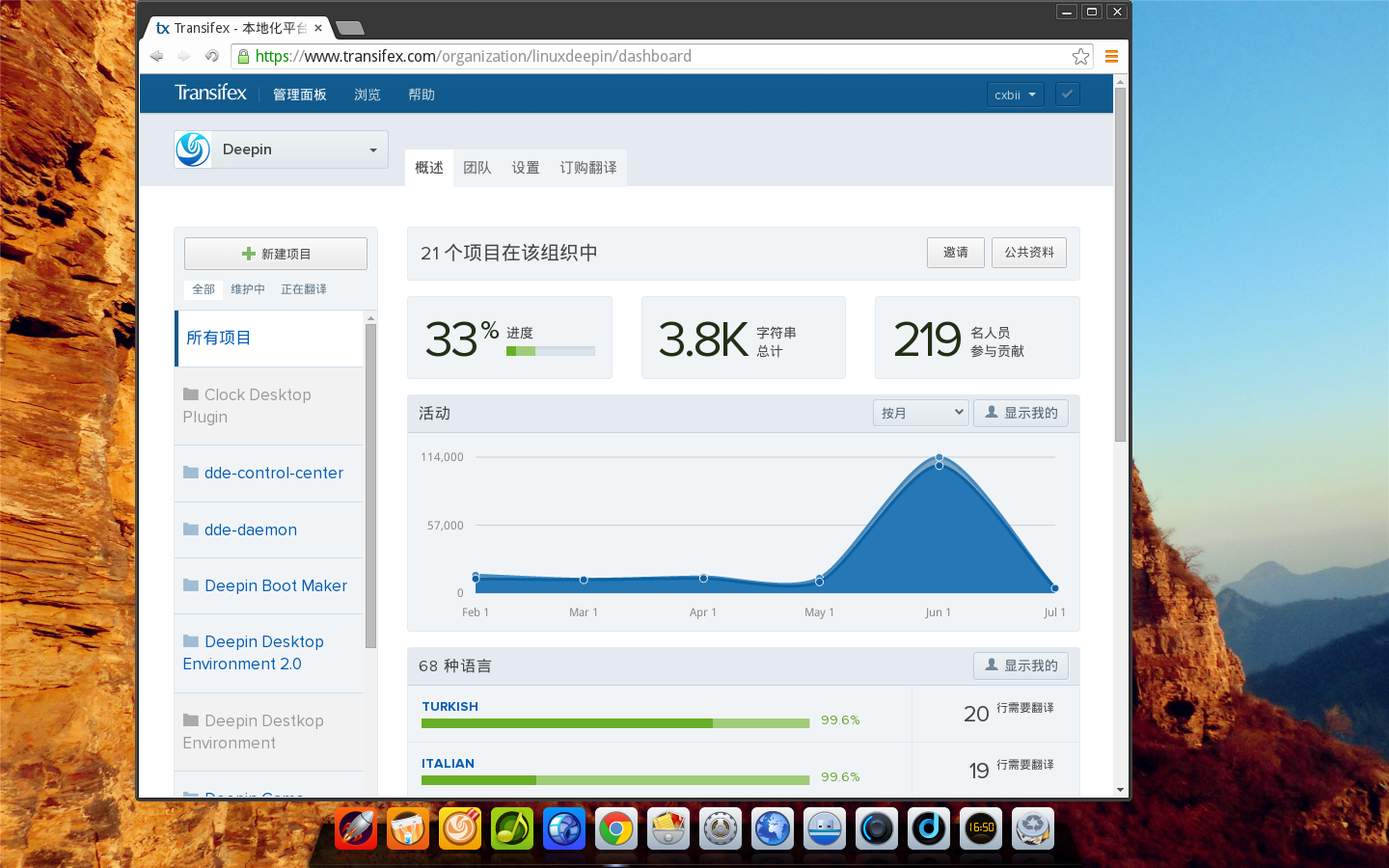 Deepin 2014 is equipped with award-winning works in Deepin 2014 Wallpaper Contest and Deepin Internationalization Project results by default, which makes Deepin 2014 have more beautiful wallpaper and have become the first comprehensive international version of Deepin Project.
The results of Deepin Project have also been constantly ported to other distributions by community developers. At present Deepin Desktop Environment has been successfully ported to the distributions like Arch, Manjaro, openSUSE and Anthon. On behalf of Deepin Project development team here I want to express my sincere gratitude to all Deepin Community members! Here we especially thank the following important contributors: a375474942、BingoLove、Bluek404 、corEr、diyiliaoya、finid、foundix、fredy4212、gotwig、lxh112210、PiziTan、rickyr、Rommel、Syqiven、Xiazhishang、Yeser、strebski、Fri、Gogo、eduardgotwig 、Laszlo.espadas、gamjachib 、648trindade 、PeterDaveHello、toolband25、Fox909、Suore、Massimo.carofano、mashudicastol 、GoldBlossom、Maxximo88、kukharski 、Jessewb 、popArch
Note: The above name list is in no particular order. And since the time was limited, we failed to gather the names of all of the important contributors. Please forgive us.
Downloading
Official Downloading
32-bit: Click here to download(MD5:904202e8f47d29b45ec847f52ac51e37)
64-bit: Click here to download(MD5:ed5a2afcb3ab8693498d61b4db02436c)
Other downloading
Sourceforge:Syncing
Friendly mirror site: Syncing
Installation
Deepin 2014 has perfectly supported BIOS and UEFI boot.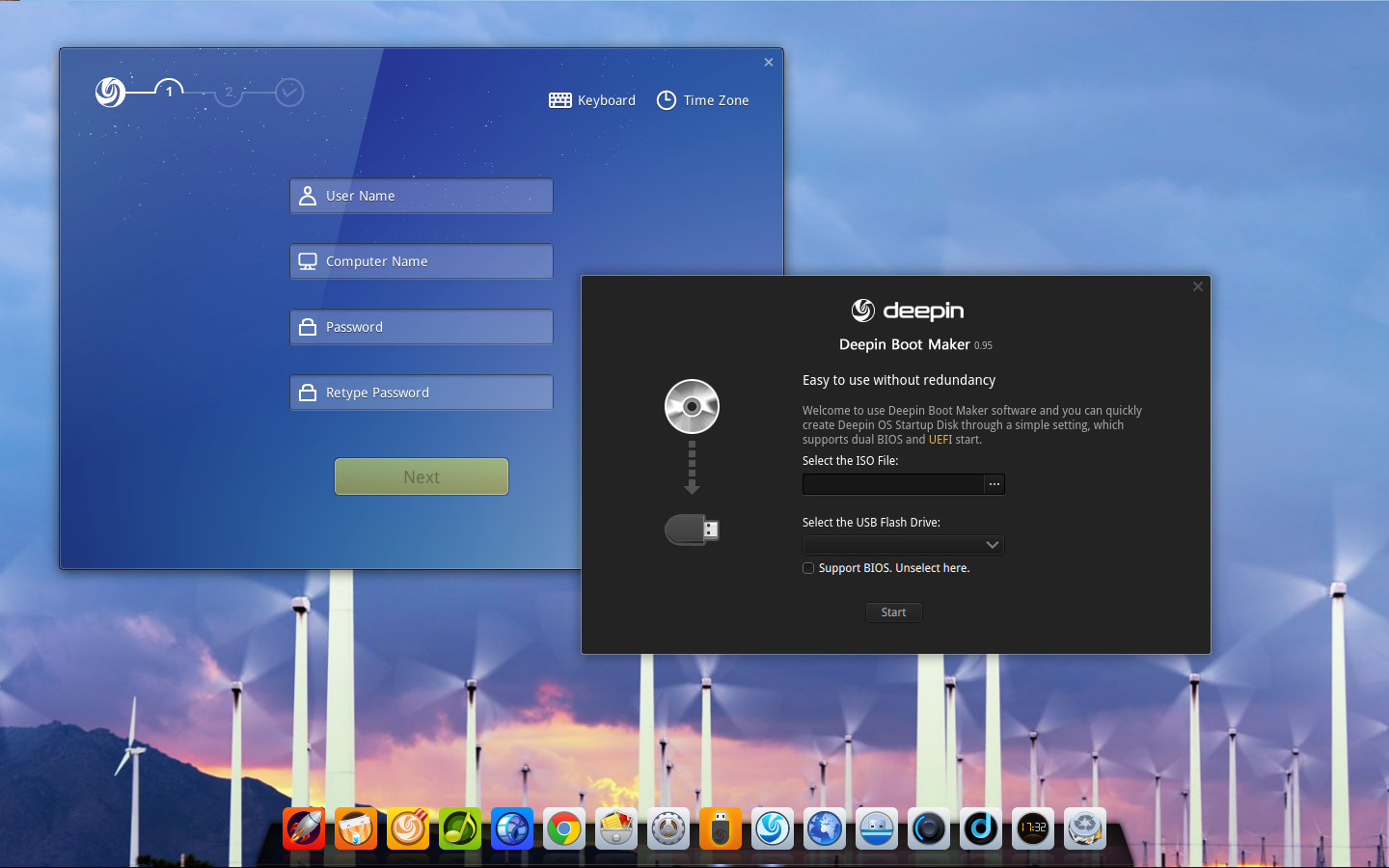 In order to lower the threshold of users' installation, we specifically developed Deepin Boot Maker (already in system mirror) and Deepin Installer. You can easily install Deepin system with the two pieces of software. For detailed installation tutorial, please refer to our WiKi.
Note:
*DeepinWin(Wubi) installation mode has been removed since Deepin 2014.
*Distributions after Deepin 2014 Alpha can be directly upgraded into Deepin 2014 Release. Distributions before Deepin 2014 Aplha are suggested to be updated into Deepin 2014 Release through reinstalling the operating system.
*Those user friends who are using NVIDIA graphic card: please don't install closed-source graphics driver, otherwise the Control Center will not start.
Feedback
Your ideas on improving Deepin 2014 are welcome. Please post the related comments and questions to Deepin official forum or problem feedback and tracking system. Meanwhile, you are welcome to pay attention to our Twitter and join in the Mailing-List of Deepin Users and Deepin IRC to get the latest information on Deepin.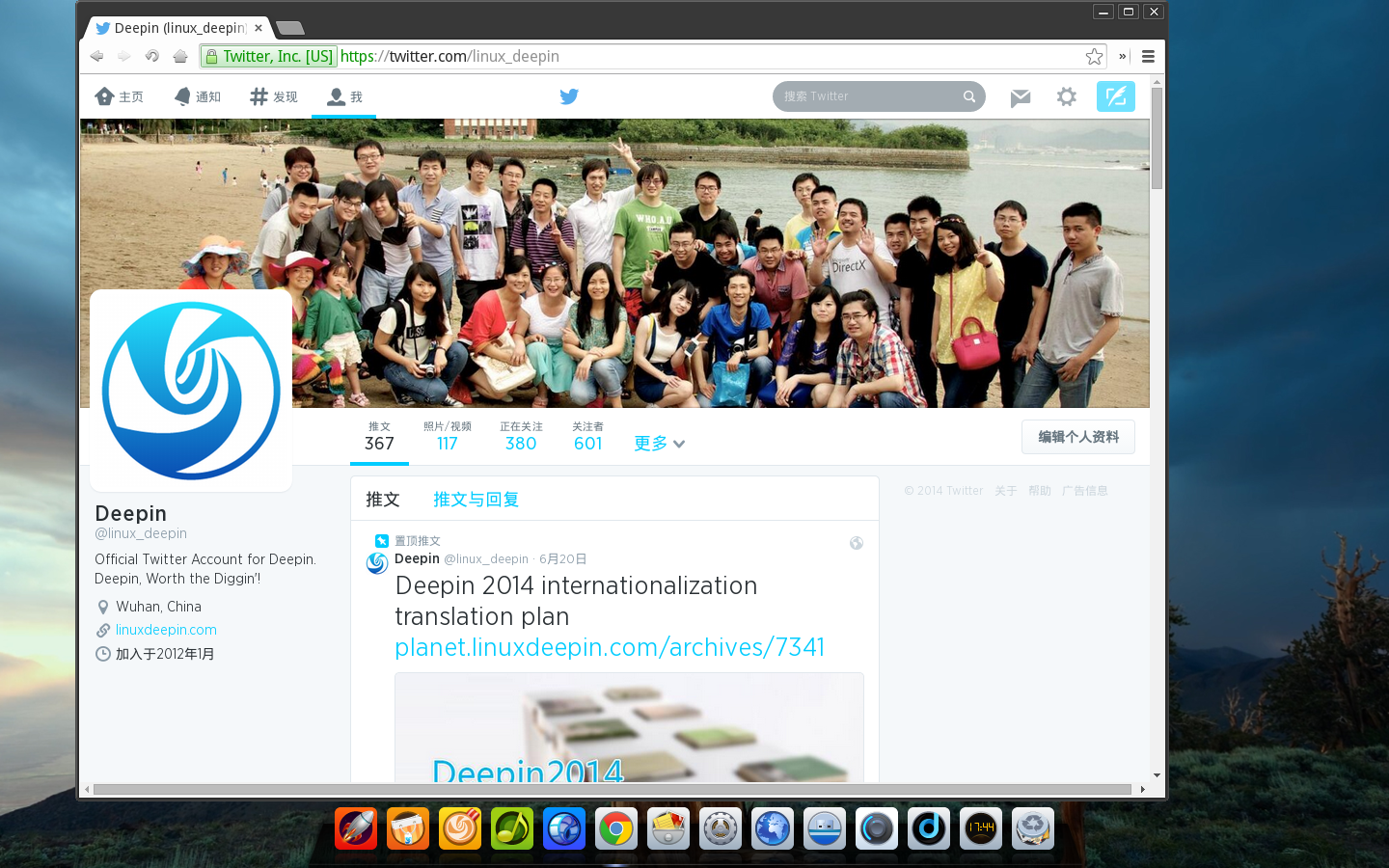 From today on, we will repair the bugs fed back from users every Wednesday and push the update every Thursday. Please pay attention to our our microblog and forum news.
Others
Deepin Operating System is issued for normal desktop users. You are welcome to download, distribute and use it freely. If you need to get business service support, you can contact us via e-mail: bd@linuxdeepin.com.
If you have the ability and confidence to create the most excellent open source desktop operating systems with us, you are welcome to join us.
Meanwhile, you can also participate in our international projects and you are welcome to be the project leader.
We thank everyone for their contribution to the development of Deepin.
Deepin Team