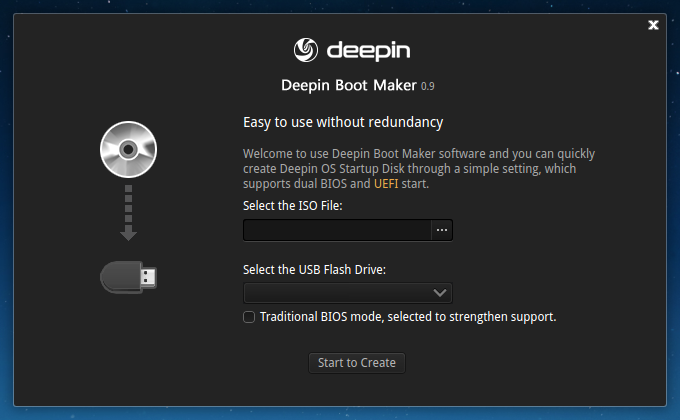 Deepin Boot Maker is used to help users to make Deepin Booting USB Drive in an easy and quick way. In design, it only supports mirror images of Deepin system. However, it can also support mirror images of Ubuntu Live series.
Now, Deepin Boot Maker has an official open beta!
Github website:https://github.com/linuxdeepin/deepin-boot-maker
Support System
Linux
At present it supports Deepin2014/Ubuntu14.04/Ubuntu12.04, and it needs the following dependencies to run normally. Please do the terminal execution:
sudo apt-get install syslinux  p7zip-full mtools libgl1-mesa-dri libx11-xcb1 libsm6 libxcb1 libfontconfig1 libxrender1 libpng12-0 libgl1-mesa-dev
After downloading Deepin Booting software(32 bit/64 bit), decompress it and Double click it to run the program.
Windows
It supports Windows 7/ Windows 8/Windows XP at present, requiring that the current system be installed with relatively new graphics driver. Besides, the users using Windows XP should have DirectX of the new version installed.
After downloading Deepin Booting software (Click here), double click it to run the program.
Click here to download DirectX local installation package or DirectX online installation package.
Mac
After downloading the installation package of Deepin Boot Maker (Click here to download), install it and then the program can run.
Attention: At present this platform doesn't support Mac OS 10.10.
Miscellaneous information
At present the basic technology of Deepin Booter is realized by unetbootin.
If you encounter problems or find program bugs in your using, leave you message on this page. Thank you.