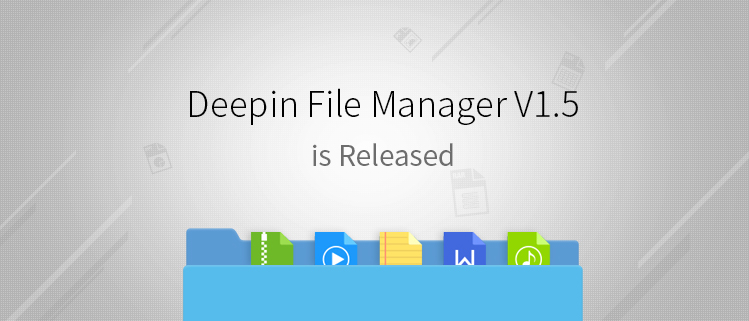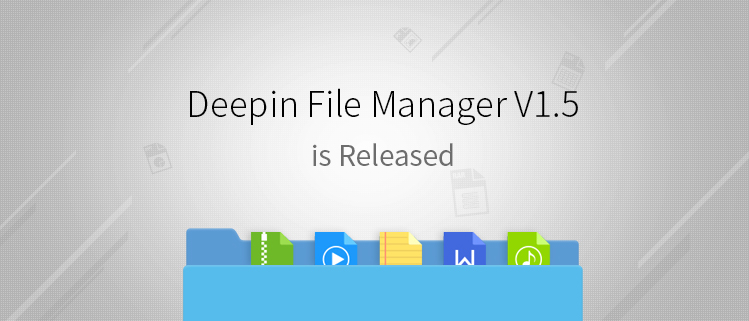 Deepin File Manager V1.5 is a bug fix version, it has added part of the function and optimized some of the operations, and fixed the bug user feeded.
Newly Added:
Added preview function for image, text, audio, PDF and other types of file (press Space key to trigger);
Added merging function for folder copying / moving.
Function Optimized:
Optimized the logic when replacing files that have same name but different types;
Optimized "Save as" dialog and drop-down box for choosing file type;
Optimized "Open with" function;
Optimized display for free disk space;
Optimized information given when conflicts occurs in file copying;
Optimized file copying from mobile phone to local disk;
Optimized file I/O for local disk;
Optimized function for file searching and locating by typing keys;
Optimized function of interacting with Chrome when popping up dialog for download;
Optimized function for file searching by initial letter;
Optimized colors for file renaming in list mode;
Optimized renaming function in tile mode;
Optimized prompt when there is no enough disk space;
Optimized speed displaying when dealing with large file;
Optimized menu displaying when operating in read-only mode;
Optimized keyboard control in location "computer:///";
Bug Fixed:
Fixed issues concerning wallpaper settings, desktop corner and context menu;
Fixed file sorting issue;
Fixed icon displaying issue;
Fixed issue that file manager crashes when closing several tabs;
Fixed issue of freezing when formatting USB stick;
Fixed issue that new windows cannot be open by pressing Ctrl-N;
Fixed issue that the file name in "Save as" dialog is not updated;
Fixed issue that dialog from file copying remain after unplug USB stick;
Fixed abnormal encoding in text preview;
Fixed issue that file manage crashes when restoring files from trash;
Fixed issue that source files are not removed after copying / moving files across partition;
Fixed issue that some USB sticks are not shown in file manager;
Fixed part of the reported problems reported by community users;
Deepin user can get Deepin File Manager V1.5 by updating & upgrading the system, or searching and downloading through Deepin Store.