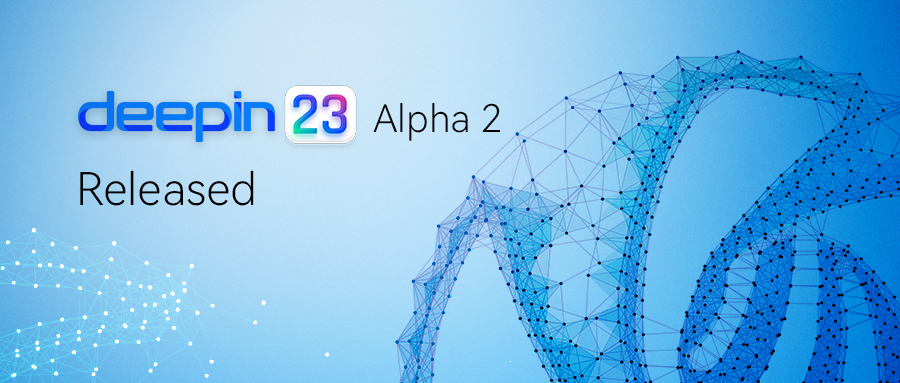 Deepin community, the first desktop OS root community in China, officially releases Deep OS V23 Alpha 2!
Deepin OS V23 Alpha 2 is one of the phase releases of V23. It is a continuation of the Alpha version, and an attempt to let all deepiners try it out first.
On the design level, the simple, friendly and vital design of line cloud continues to be upgraded, and supports advanced customization of system themes to create "the deepin you want"!
On the functional level, it fully respects the needs and opinions of the community users, optimizes the formatting prompt text and operation logic when mounting the home partition, and integrates the new Linglong application store to create the "deepin you want"!
Deepin OS V23 Alpha 2, welcome to experience and give us more ideas and opinions!
Feature Updates and Optimizations
DDE
Multi-Screen Collaboration
System Installer
Backup and Restore
Text Editor
App Store
Input Method Configuration
Movie
Other
Bug Fixed
System Installer
DDE
Backup and Restore
File Manager
Text Editor
System Monitor
Music
Album
Image Viewer
Screen Capture
Mirror Download
Official:https://cdimage.deepin.com/releases/23-Alpha2/
Google drive:https://drive.google.com/drive/folders/1R4AvD4ie34O7FixqfHa2bLXwhn-vDoGJ
Please install and try this version in a non-production environment!
Acknowledgements
Last but not least, we would like to thank the organizations and companies that provide testing, documentation, translation and mirror support for Deep OS!
If you have any questions or suggestions about the system, please feel free to join the discussion on the Deep forum: https://bbs.deepin.org , thanks for your support!