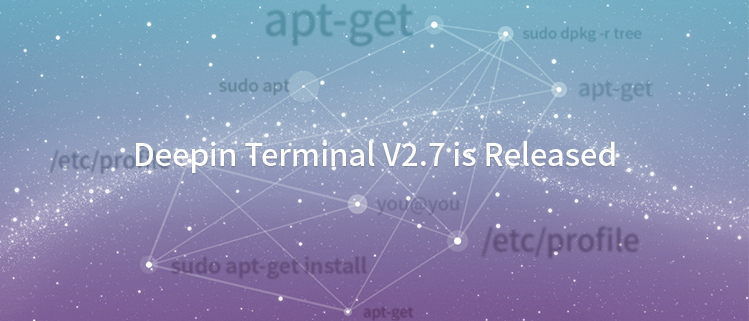 Deepin Terminal V2.7 is a revision. It added some new functions, mainly optimized some details and fixed bugs from users.
Newly added the function that nine terminal windows in different colors will be opened by pressing Ctrl + Alt + number 1~9, just configurate the settings of theme_terminal;
Newly added the option of run_as_login_shell (Disabled by default), and Login Shell will be opened by default through configuration files;
Newly added git vte library to implement the terminal control function, fixed the search issue caused by vte;
Optimized the interaction that no prompt of "Unknown option" will come out when selected the terminal default command line option;
Optimized the terminal scrollbar to avoid the issue that terminal will crash due to conflict between VTE and Gtk.ScrolledWindow when switching tabs;
Optimized the function that the terminal width will be auto adjusted according to the screen size by Quake window in multi-screen working environment;
Fixed the issue that terminal crashed due to emoji;
Welcome to use Deepin Terminal V2.7 by updating your system or download in Deepin Store.