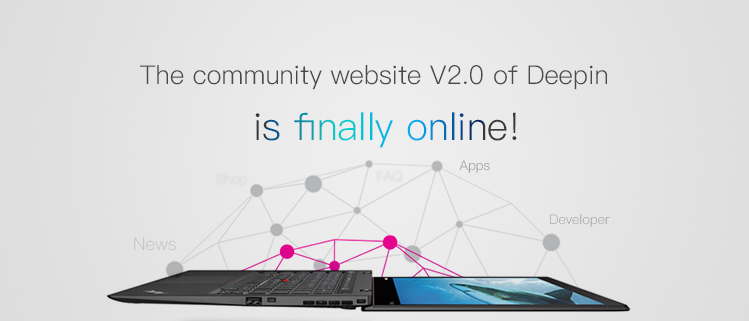 Hi everyone:
Today, the new community website V2.0 of Deepin Technology is finally online!
Address: https://www.deepin.org
We have got the new layout and design for the community website, mainly shows community related contents. The homepage has shown more information than before and we've added columns for project, app center, document and developer community, etc. and integrated blog news and version planning for your concern.
The main change of the community website are the following items:
Mainly shows the contents of the homepage, especially version information, community news and updates, etc;
Added column for projects to show Deepin Desktop Environment, Deepin Original Applications and Deepin Cooperative Applications;
Added column for documents to show community related documents, mainly wiki and installation process;
Integrated blog and make the existing sub domain blog a news center, to show news and updates at once;
Added app center to show apps for Deepin Store(to show the latest apps on web) and to show the entry for delivering apps(deliver to community for now, will deliver to the backend of the Deepin Store in the future);
Added developer community, mainly to let more developer join the development process and show version planning, howtos(make plugins for dock or control center, etc.) and how to join i18n project, etc;
Shows the community culture and put recruit, contact us and commercial cooperative to Deepin Commercial Website;
Besides the online columns and pages, we've planned to add package management, design center(including theme, icon, wallpaper), knowledge base(FAQ) and store, etc.
Now we've finished the data sync and integrated part of the V1.0's resources. If anyone found any problems, you're welcome to Click Here to report.